Reading Time:
6
minutes
Asia Law Network has partnered with the Singapore Corporate Counsel Association (SCCA), a professional body that connects the Singapore in-house community, to bring a series of interviews featuring prominent in-house counsel.
In this interview, we feature Siqi Chung, Legal and Marketing Communications Director at Zouk Consulting. Zouk is a 27-year-old music-driven entertainment institution that provides a world-class clubbing experience for many. When she enters a room, Siqi imagines the song "It's my life" by Bon Jovi playing out loud. Play her song here, as you read on to find out how she wants to live while she's alive.
What made you choose to be a lawyer and what drives you today?
I did not actually choose to be a lawyer and had plans to be an architect. But I have traditional Asian parents and  they guided me towards the legal profession instead.
After I started studying law in university, I realized that I enjoyed certain subjects like Intellectual Property (IP). It was then that I decided that Intellectual Property was an area that I liked and my career began in IP litigation at Drew and Napier LLC. Back then, IP was not a huge thing yet and not many law firms had an IP department.
Up to this point, I am driven by the stakeholders involved in the IP ecosystem, such as the technology companies and the creators. This was why I moved into the Intellectual Property Office of Singapore (IPOS) after my stint in private practice.  At IPOS, I was involved in negotiations of the IP chapter for the Trans-Pacific Partnership as well as the Regional Comprehensive Economic Partnership (RCEP). My stint at IPOS made me even more interested in intellectual property and that is why I decided to move in-house, to work on the side of the creators. Now, looking back at my journey, going to law school is not something I regret.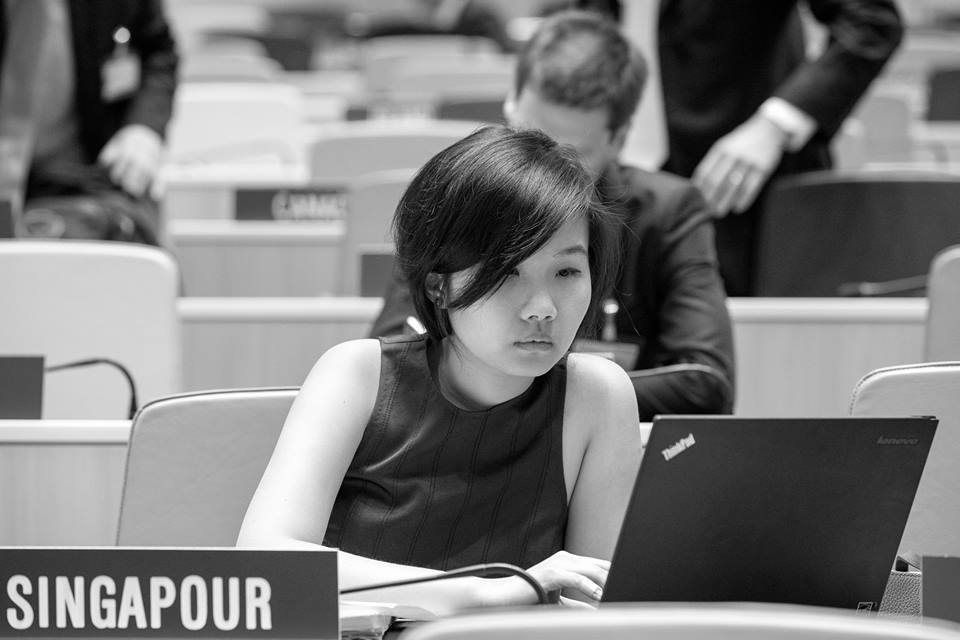 Siqi at the World Intellectual Property Organization in 2016
Describe your experience when you first joined as in-house counsel. What have you learnt?
When I first joined as an in-house counsel, I was firm about sticking to "the law". However, after understanding the business outcomes, I started to quickly move towards finding the best case scenario for everyone. The best scenario when someone does you wrong may not necessarily be to sue them. People have this mindset that they must extract a pound of flesh from the wrongdoer. However, things do not always have to work that way.
As an in-house counsel, I get to oversee the entire process and I try to solve things from the start. For example, when I draft contracts, I try to map out the worse case scenario and plan for it. I also have to make sure that the other party is comfortable. It is important to do things with integrity and not slip clauses into the contract that the other party may not be aware of. My job is to make sure everybody is aligned. Even if there are minor disputes, you can always work out little differences with the other party.
What can you do for your company that no one else can?
My role differs from other in-house counsels because I have to look at the marketing budget, assist in business development, handle Zouk's membership program and craft the communications that go out.
I actually enjoy my marketing role. I've liked writing since I was in school. When I was in university, a couple of friends and I started a pop culture website for millennials called Popspoken. We covered music, arts and different events both locally and regionally. That was an outlet for my artistic side. In my current role as head of marketing, the opportunity to have a similar artistic outlet is something that motivates and drives me.
What are some of the challenging aspects of your job?
One challenging aspect is finding the balance between my marketing and legal role. As head of legal, people look to me for certain issues like compliance. On the other hand, for my marketing role, I need to have a more creative approach and be able to solve problems on the go.
I would say that the two roles do not sit at odds with each other. The same level of rigour is required for both marketing strategy and legal research. For example, when coming up with the marketing strategy for Zouk, I have to map out what our competitors are doing overseas, what our competitors are doing in Singapore and what our unique selling points are.
However, the approach to problem solving is different. I take a softer approach when it comes to marketing. For example, if we have an agreement with someone and the other party only fulfils 9 out of 10 clauses, we cannot trip up the entire process because of one last clause. I have to try to find a win-win outcome that keeps the partnership strong.
Besides expanding in Zouk Genting, Zouk is also expanding in F&B through Red Tail Bar and other ventures. This means having to do market research, looking for locations as well as coming up with the marketing strategy for the new projects.
Discuss the legal issues you have faced as an in-house counsel. What was your strategy for solving the problems and what was the outcome?
We have had several cases of trademark infringement. For example, there was a club in Australia that used our trademarks. We decided not to pursue that incident via litigation as the club had not opened yet. Instead, we wrote them a letter asking them to cease and desist and even contacted Facebook to remove their page.
There was also a club in China that used our trademarks. That club spent millions to renovate the premises and had engaged premium brands as partners for some of their parties. As there was a lot of intention behind their actions, we decided to pursue the case to the full extent of the law. When these cases pop up, I have to assess how the team is going to spend Zouk's legal budget and what cases are important to pursue.
A significant part of our legal budget is spent on the registration and protection of trademarks. On a day to day front, the legal team deals with management agreements, franchise agreements, DJ agreements, service agreements and more. For licensing issues, we have to liaise with the various government bodies including the Singapore Police Force, the National Environment Agency and even the Singapore Tourism Board.
What do you think about the future of lawyering?
Technology can assist with the research process and distill certain outcomes for lawyers to use. This will make a lawyer's life easier, as lawyers can focus more on strategic outcomes.
I know that there have been people saying that technology will replace lawyers one day. I don't think that will ever be the case. There is a reason why law is a profession that has remained all these years. A lot of it has to do with persuasion techniques and emotions. Those are things I feel that technology will not be able to replace.
What other skills do you think young lawyers need to stay relevant in the future?
I do not think it is any particular skill but rather more of a mindset. Having an attitude of learning is important. Everything is changing and if you do not keep up with certain trends, you will be left behind. Young lawyers should be mindful of the changes that are ongoing and adapt.
What song do you imagine playing when you enter the room?
It's my life by Bon Jovi.
3 lesser known facts about you?
To keep my artistic side still engaged, I make it a point to do watercolour painting every weekend. Recently, I went to Ipoh to paint and also went to Tibet last year. When you go for a painting class, everyone around you is motivated to do the same thing. This helps you to stay engaged and paint. Sometimes, it is hard to drag myself out of bed in the early morning on a weekend when it's so tempting to sleep in, but I feel guilty when I miss a class so that propels me to keep on going.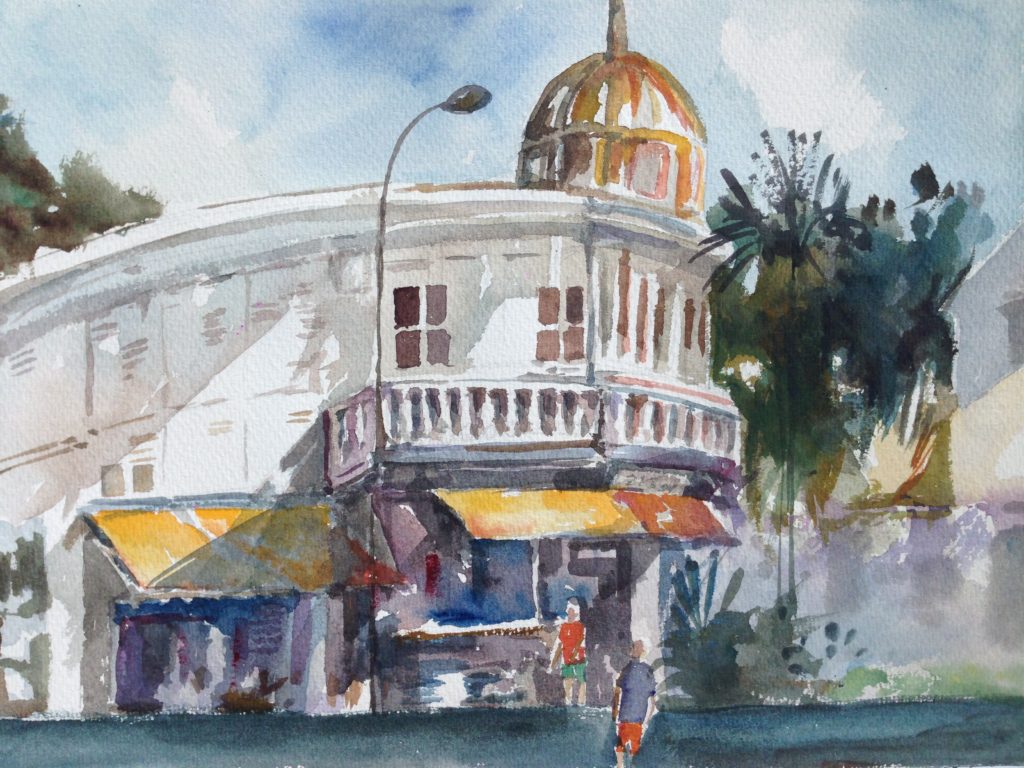 McKenzie Road, January 2017 (Siqi Chung)
I also enjoy travelling and have been to all seven continents. In 2015, my friends and I went on a long trip through Brazil, Argentina and eventually made our way to Antarctica, the final continent.
The final fact is that I am an introvert. Given that I am in the marketing and media scene, most people imagine that I am an extrovert. But for me, it boils down to what my motivation is. I do not do things for the external validation and I prefer to keep my personal life to myself. Of course, when it comes to my job, if I have to network or be on certain panels, I wouldn't mind doing it and will make sure that it is worthwhile.
---
This article does not constitute legal advice or a legal opinion on any matter discussed and, accordingly, it should not be relied upon. It should not be regarded as a comprehensive statement of the law and practice in this area. If you require any advice or information, please speak to practicing lawyer in your jurisdiction. No individual who is a member, partner, shareholder or consultant of, in or to any constituent part of Interstellar Group Pte. Ltd. accepts or assumes responsibility, or has any liability, to any person in respect of this article.
---
Continue Reading: