Reading Time:
5
minutes
It's incredibly exciting when you start your own business. You've finally done it, made that break away, and all you see are the positives and none of the negatives that lie ahead of you. That's great. It's important to be positive. But it's also important to be realistic.
All too often, we see business owners on the other side of the equation. Unfortunately, business owners who have not sought legal advice at the outset of a business make up about half of our clients. Perhaps they've fallen into dispute with a business partner but they've made no provision for what would happen to the business in those circumstances. Perhaps they're operating without the appropriate licences or registrations. Or maybe it's that they have been operating in a business structure that puts their personal assets at risk.
We would like to share with you some information that should help you get ahead of the game. If you know what to look out for then hopefully that will help you avoid the pitfalls that so many business owners experience.
Here are our top five legal considerations when starting your own business:
1. Choose the Right Structure
Choosing the right business structure at the outset is incredibly important because it will have implications for you for the life of the business. The structure you choose will depend on many things including the type of business you will be operating, your appetite for risk, required level of flexibility, cost implications of each structure and tax consequences.
Generally speaking there are four main options when considering your structure. These are:
Sole trader: a business owner trading on their own
Partnership: two or more people or entities running the business together
Company: a separate legal entity from its shareholders
Trust: an entity holding the assets of the business for the benefit of others
A lawyer can run through the pros and cons of these structures with you to help you make the right decision. If you've already been operating in business for a while you may wish to reflect on your earlier choice and see whether that structure still suits your circumstances. For instance, we often see sole traders move to company structures after they purchase their first home, mainly in order to reduce the risk of their assets being vulnerable should they be sued by a client.
2. Document the Structure
If you're going into business with other people it's a very good idea to document the arrangement. If you have chosen a partnership structure you will need a Partnership Agreement. If a company structure has been chosen, you will need a Shareholders Agreement. These documents set out the rights and responsibilities of each of the business owners.
Of course, these documents aren't always considered necessary by many business owners when they go into business. However we've found they become necessary in two main situations, when the business is making a lot of money, or alternatively when business disputes occur between the business owners. Either way, if you've documented the arrangement from the outset then you have something to turn to that reflects the agreement between the parties.
Whilst it is of course possible to buy these documents 'off the shelf' without legal advice, they won't be tailored to your business. We would always recommend asking your lawyer to draft these documents to your specific circumstances. After all, the documents are there in order to support you.
3. Consider Your Obligations
Once you've chosen your legal structure and documented your arrangements you will then need to consider the legal framework you're operating in. For instance, will you be a service-based business or are you selling products to customers? Are your customers businesses or consumers? These questions are all relevant to the type of laws that will govern how you operate your business.
Let's use a web based ecommerce business as an example. If you sell products you will need to know, amongst many other tings, the circumstances under which you are required by law to provide a refund to your customers. You will also need to ensure you're not infringing on anyone else's intellectual property rights, have terms and conditions in place with your customers and generally you may also be required to have a privacy policy in place. These are just some of the legal necessities when operating in this industry. It can be a lot to deal with at once but try not to let it overwhelm you. Lawyers can help you address all of these matters quickly and easily.
At Legally Yours we believe that it doesn't have to be daunting, and it shouldn't cost you the earth to set yourself up properly.
4. Protect Yourself
Whenever you start a business it is crucial that you adequately protect your business. After all, you've worked so hard to start it and it will be one of the biggest assets you own. Insurance is generally a must, but in addition to insurance, consider how valuable your intellectual property is.
Intellectual property can include things like your Trade Mark, Copyright, your brand, domain name, recipes or products you've created. Business owners frequently underestimate the value of their intellectual property, but intellectual property can be one of the biggest assets your business owns. At the very least your intellectual property will need to be valued if you decide to sell your business, so it should be registered so it can become an asset. Think about your logo for a moment. Now consider how your business would be affected if another business were to use that logo because you didn't register it as a Trade Mark. How important is your logo or brand to your business?
Other ways to protect yourself in business include having appropriately drafted terms and conditions. These are particularly useful when it comes to payment terms because, let's face it, every business owner needs to get paid.
Privacy Policies are also a great way not only to ensure your business is complying with the Privacy legislation, but also to let your customers know you are responsible and professional in the way you handle their personal information.
There are so many ways that businesses can use lawyers to protect their business, but registering your intellectual property, having appropriately drafted terms and conditions and having a privacy policy certainly get you off to a flying start.
5. Employer Responsibilities
If you intend to have employees you will need to consider the conditions of employment that you will offer to your employees. There are certain minimum standards in Australia that apply to all employees (such as minimum wage) and certain Awards that apply in particular industries that provide a further 'safety net' for employees. You should familiarise yourself with these standards and also your obligations under the Fair Work and Occupational Health and Safety Acts to make sure you are operating lawfully.
Many business owners provide conditions above the minimum required by law and they enter into employment contracts with their employees to reflect the arrangement. We would always recommend that you have formal employment agreements in place with your employees, not only so the rights and obligations of each party are clearly documented, but also in the event of a dispute with an employee.
We hope this information has helped you to navigate through the legal process of starting your own business. Congratulations on taking the first step and we wish you every success. If you're unsure about where to start or want legal advice, we recommend connecting with a commercial lawyer.
Need legal advice?
If you need legal advice, you can get a Quick consult with experienced lawyers. With Quick Consult, you can check out in minutes and for a transparent, flat fee, the lawyers will call you back on the phone within 1-2 days to answer your questions and give you legal advice.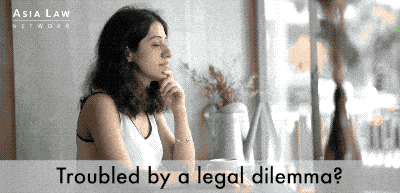 ---
This article is written by Karen Finch and was first published on the Legally Yours website.
This article does not constitute legal advice or a legal opinion on any matter discussed and, accordingly, it should not be relied upon. It should not be regarded as a comprehensive statement of the law and practice in this area. If you require any advice or information, please speak to practicing lawyer in your jurisdiction. No individual who is a member, partner, shareholder or consultant of, in or to any constituent part of Interstellar Group Pte. Ltd. accepts or assumes responsibility, or has any liability, to any person in respect of this article.
---
You might be interested in these articles: