Reading Time:
3
minutes
Getting sued might be something that you think will never happen to you. Maybe you're right. But what if it did? Are you doing all the right things to protect everything you've worked for?
Small businesses can often be a target for being sued because people assume that they'll settle rather than go through a lengthy and expensive court case. While there's no way to guarantee you'll never be sued, there are some things you can do to protect yourself and mitigate that risk.
1. Have the Right Structure
A lot of business owners go into business without getting structuring advice. This is a common mistake, but it's one that can be corrected so don't worry.
While many business owners go into business as a sole trader, other structures (Companies in particular) can minimise the chances of any lawsuits impacting your personal assets.
Accounting advice is not the only advice you need when you go into business, so be sure to have a consultation with a lawyer about structuring your business in order to reduce exposure to liability.

2. Be Compliant With the Law
Obvious right? The reality is that most business owners aren't sure of all of their legal obligations. For instance, they may have employees but they don't know the basics of employment law and what is required of them. That's fine, that's what lawyers are good for.
The easiest way to comply in all areas of law is to have a consultation with a lawyer about your specific business and let them tell you.
3. Document, Document, Document
Best practice for any business owner is to document your agreements with partners, employees and customers.
Clearly outlining the rights and responsibilities of each party puts you in a strong position should you be sued.
Recording everything in writing is one of the best ways to avoid litigation, particularly when it comes to employment agreements. If everything is documented then each party knows exactly what is expected of them. Every employment contract should also include a disputes clause. Having a disputes (or arbitration clause) clause could keep you out of court if you end up having conflict with an employee.
In addition, you may wish to institute an employee handbook which outlines your policies and training requirements on things such as harassment and discrimination.
Last but not least, there is a myriad of Consumer Law and Privacy Law that may apply to your business. Our advice would be to put in place a Refund Policy and Privacy Policy to ensure you're compliant and reduce the chance of customer disputes.
4. Insurance
A lot of business owners I speak with are insured, but they do not have the right type of insurance to protect them.
As a business owner if you do nothing else, then obtain advice from an insurer about the right type of insurance for your business. Having the right type and level of insurance will protect your business if it does end up getting sued.
Need legal advice?
Avoid getting caught in a situation that will put your business at risk. If you would like to know more about protecting yourself  and your business, you can get a Quick consult with experienced lawyers. With Quick Consult, you can check out in minutes and for a transparent, flat fee, the lawyers will call you back on the phone within 1-2 days to answer your questions and give you legal advice.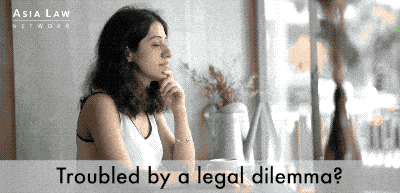 ---
This article is written by Karen Finch and was first published on the Legally Yours website.
This article does not constitute legal advice or a legal opinion on any matter discussed and, accordingly, it should not be relied upon. It should not be regarded as a comprehensive statement of the law and practice in this area. If you require any advice or information, please speak to practicing lawyer in your jurisdiction. No individual who is a member, partner, shareholder or consultant of, in or to any constituent part of Interstellar Group Pte. Ltd. accepts or assumes responsibility, or has any liability, to any person in respect of this article.
---
You might be interested in these articles: