Reading Time:
4
minutes
Getting legal help is like pulling teeth, right?
Most people think that it's expensive, inconvenient and difficult to get a lawyer. Indeed, there seems to be no easy and straightforward method to choose a lawyer out of the 4,885 legal practitioners in 863 law firms in Singapore. Many are also intimidated at the prospect of getting in touch with a lawyer and finding out whether the legal help they provide is worth the hefty legal fees.
Our research shows that people think that it is:
Challenging to find the right lawyers
Expensive to get legal help from a lawyer
Time-consuming in researching and getting in touch with lawyers
Inconvenient – have to wait for appointments and make a trip down to the lawyer's office
Only necessary to get in touch with a lawyer for very serious issues (e.g. getting sued)
There is some truth behind some of these thoughts, but there are also some misconceptions. 

As a result, many people do not seek legal help when they should!
Because of this, there are many people who should get legal advice but do not because of some of these misconceptions. For example, some people do not even realize that the dilemma they are grappling with is a legal one.
In other cases, they think that they only need to get in touch with a lawyer as a last resort when they are threatened by a lawsuit for example. The truth is many people can benefit greatly by getting legal help from a lawyer early before it escalates to a serious issue. A business example is getting their advice behind the scenes before you start a business or a negotiation. A personal example is if you are facing a harassment issue at work, they can help you lay out your options so you know what to do and what not to do in this situation.
People like you are changing how you search for legal help
In a survey we've conducted on finding legal help, we've found that 39.29% of our respondents Googled for legal advice and 20.75% used Google to locate and find the right lawyer. Just like how people use online reviews to compare electronic products and restaurants, many are using information they've found online to make comparisons between lawyers and law firms. For example, people might use lawyer directories like this one to more effectively locate and compare lawyers by practice areas, language and other fields.
As people are becoming more proactive and discerning in seeking legal advice, lawyers too are changing to meet the demand for accessible and affordable legal help. They have done so as part of the legal industry's movement to innovate and reduce the difficulties and cost of getting legal help.
Quick Consult – Have a lawyer call you back within 1-2 days to give you legal advice for a flat fee starting at S$49 (yes, it's that easy!)
One of these available solutions is the Quick Consult service. You can now get a practising and experienced lawyer to call you back within 1-2 days starting at just S$49 with a Quick Consult.
Quick Consult was created to connect people and businesses to the right legal advice conveniently and affordably in an industry that is often anything but. By using Quick Consult, people can get reliable legal advice at an affordable price and make better and more confident decisions.
How it works:
Go to the AsiaLawNetwork's Quick Consult Page on your laptop or phone
Follow the easy interface to find the most relevant lawyers
Select your lawyer
Fill in your case details within minutes
Check out securely with a credit card (flat, transparent fee starting at S$49)
Lawyer calls you back within 1-2 days to answer your legal questions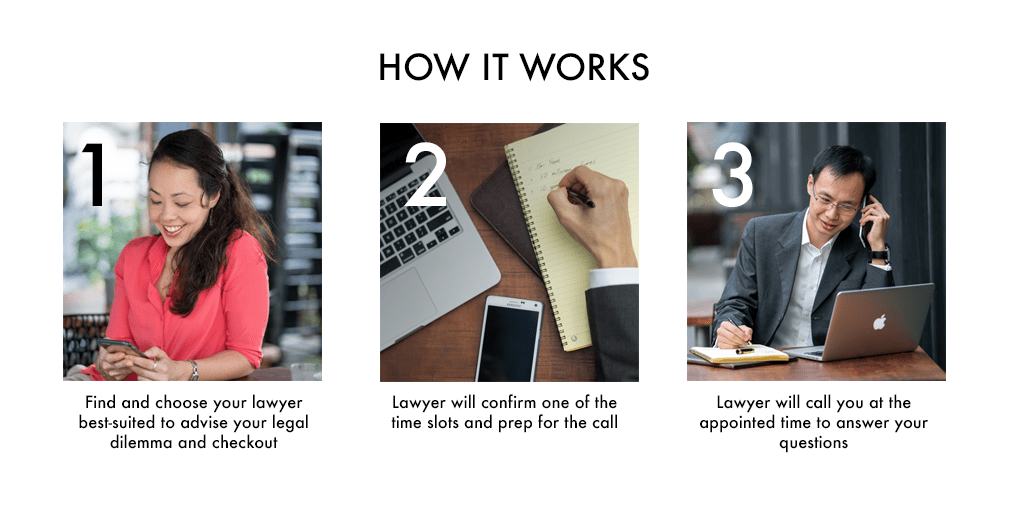 Why consider using a service like that?
A Quick Consult is a great way to get started on resolving your issue as you can:
Get a sense from a reliable source (practicing lawyer) on how serious your issue is
Understand your options
Know how long and how much each of these options will entail
Suggest next steps
Ask the lawyer any questions about your issue you want to clarify
Our clients have used Quick Consult to:
Get a 2nd opinion quickly and affordably to advice they may have gotten elsewhere
Evaluate lawyers to select one for a longer and more in-depth consultation
Discuss sensitive issues they may not want to ask their lawyer friends about (e.g. bankruptcy)
If your issue is complex and requires more discussion, Quick Consult makes it convenient and affordable to get quick answers and second opinions by discussing your issue with more than one lawyer. A Quick Consult call may lead to quotations for follow-on services, from which you'll be able to compare and select a lawyer that suits your needs best.
What are the benefits of using Quick Consult?
Convenient – Check out online in minutes after submitting the details of your case for the lawyer to review.
Fast – Getting stuck in a legal dilemma can be very troubling and some decisions need to be made fast.
No hidden costs – All Quick Consults are charged at a transparent, flat fee starting at just S$49.
Practical and relevant legal guidance from a practising, experienced lawyer – Talk to a lawyer with the relevant expertise to give you helpful legal advice. All lawyers who offer Quick Consult have valid practicing certificates which authorizes them to practice law in Singapore.
Secure – Pay with a credit card via PayPal without sharing any of your financial information.
Confidential –Your case details are protected by legal advice privilege with your lawyer and held to be strictly confidential.
Don't believe us? Give it a try now! Start here to easily and affordably get legal help.
---
This article does not constitute legal advice or a legal opinion on any matter discussed and, accordingly, it should not be relied upon. It should not be regarded as a comprehensive statement of the law and practice in this area. If you require any advice or information, please speak to practicing lawyer in your jurisdiction. No individual who is a member, partner, shareholder or consultant of, in or to any constituent part of Interstellar Group Pte. Ltd. accepts or assumes responsibility, or has any liability, to any person in respect of this article.