Reading Time:
4
minutes
Employers rely on foreign workers for various reasons – whether to answer the shortage of local workers or to fill specialised roles. The Ministry of Manpower reports 1.393 million foreign workers in Singapore as of December 2016. Employers who want to tap into foreign talent must apply for work passes. It can be a complicated and challenging process for businesses hiring a foreigner for the first time.
This article seeks to simplify the process of applying for work passes by highlighting matters an employer should be prepared for. While there are many different work passes, we will only focus on four commonly used work passes:
Work Permit
"S" Pass
Employment Pass
Personalised Employment Pass
Types of passes
The employment of foreigners in Singapore is regulated by Ministry of Manpower (the "Ministry") under the Employment of Foreign Manpower Act (the "Act"). Under the Act, a "foreigner" means any person who is not a citizen or permanent resident of Singapore.
Foreigners must hold a valid work pass to be employed in Singapore. The conditions for the different work passes are determined by the Ministry and may be found on the Ministry's website.
A summary of the work passes is set out below.
Type of Work Pass
Work Permit
S Pass
Employment Pass
Personalised Employment Pass
Who may apply for it?
Unskilled workers from specific countries
Diploma holders with relevant work experience
Experienced managers or executive
Experienced managers or executives earning a high wage
Any minimum requirements?
No minimum requirement
Fixed monthly salary of at least $2,200
Fixed monthly salary of at least $3,600

Work in a managerial, executive or specialised job

Minimum qualifications (job dependent)
Employment Pass Holder earning a fixed monthly salary of at least $12,000.

Overseas foreign professional earning a fixed monthly salary of at least $18,000
What is the validity of the work pass?
Up to 2 years;
Renewable
Up to 2 years;
Renewable
Up to 2 years;
Renewable
Up to 3 years;
Non-renewable
Any quota on the number of work passes that may be issued?
Quota depends on industry (from 40% to 87.5% of the company's total workforce)
Up to 20% of company's total workforce
No quota
No quota
Whether employer must provide medical Insurance
Yes
Yes
Employers may choose whether to provide medical insurance
No
Is the Foreign Worker levy payable?
Yes
Yes
No
No
How does the foreign workforce break down?
71% of the 1.393 million foreign workers in Singapore as of December 2016 are unskilled workers under a Work Permit. They form the majority of the foreign workers in Singapore.
The second largest group of foreign workers are Employment Pass holders, making up about 14% of the foreign workforce in Singapore (192,300 foreign workers). They hold managerial and executive positions and earn at least S$3,600 each month.
S-Pass holders are the next largest group, making up about 13% of the foreign workforce. They have at least a diploma and earn at least S$2,200 each month.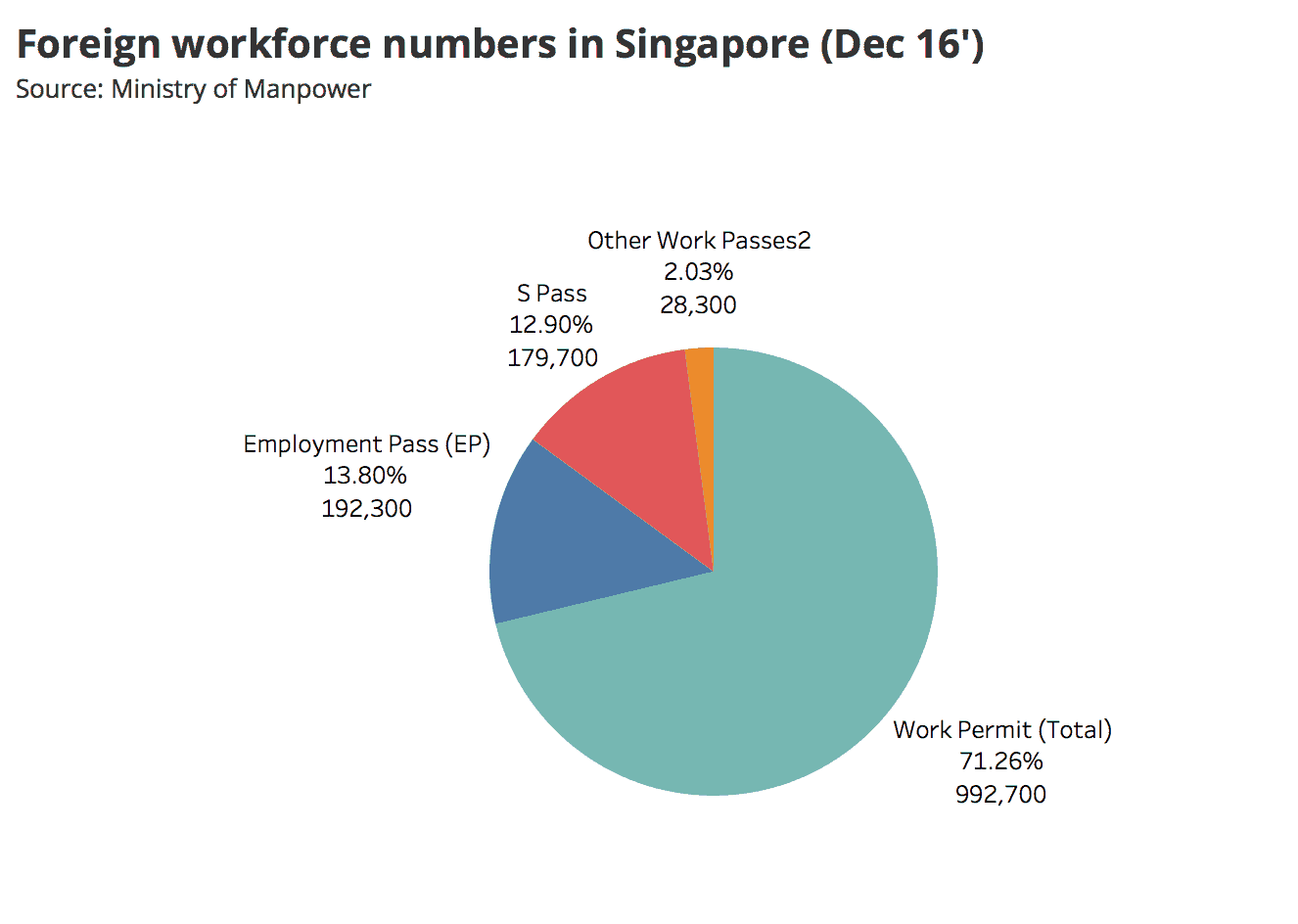 How long does it take to obtain a work pass?
Applications for work passes may take three to eight weeks depending on the type of pass. Employers should also budget sufficient time to re-apply if the application is rejected.
What are the administrative costs to hire a foreign worker?
The fees payable to the Ministry for the work passes are set out below.
Types of Work Pass

Application Fee
Issuance Fee
Total Fee
Work Permit
$30
$30
$60
S Pass
$60
$80
$140
Employment Pass/
Personalised Employment Pass
$70
$150
$220
The Ministry also charges a foreign worker levy for the S Pass and Work Permit, which costs will depend on the type of work pass, the type of industry and the quota of foreign workers hired.
Additional information the Ministry may require
#1 Employer's financial viability
The Ministry may also examine the applicant employer's financial viability, in addition to assessing the prospective foreign employee. It is not uncommon for the Ministry to request for the applicant employer's financial records such as invoices and current contracts, to be satisfied that the applicant's employer is a going concern – i.e the employer will remain in business for the foreseeable future.
#2 Explanation for hiring a foreign worker
Where applicable, the employer should consider submitting a letter to explain their decision to hire a particular foreign worker when there are available local workers for the role. For example, the desired foreign worker may possess unique qualifications or specialised skills, or is from an overseas affiliate.
Complying with other regulations
In addition to the Act, the employer must also be mindful of its obligation to comply with the Employment Act, the Immigration Act and the Income Tax Act.
For example, the employer may have salary, work injury compensation, maternity and childcare obligations under the Employment Act. Where an employee is terminated, the employer is responsible under the Income Tax Act to obtain a Tax Clearance Certificate before releasing the employee's final payment.
Commonly asked questions on hiring foreigners
Can I apply for a dependent's pass before the work pass is approved?
Yes. However, the dependent pass will be rejected without any refund of application fees if the relevant work pass is not approved.
Can I transfer a work pass holder to another company?
No, the new employer has to submit a new work pass application for the foreign worker.
Can I pass the foreign levy costs to the foreign worker?
No, this is an offence under the Employment of Foreign Manpower Act.
Are Work Permit holders and S Pass holders allowed to work at a customer's place?
Yes. Work Permit and S Pass holders are generally allowed to work at a customer's place as long as the applicant employer continues to be responsible for and pay the workers, and if the employer can explain the arrangement (e.g. there is a contract between the employer and the customer to provide services at the customer's worksite).
Conclusion
The employment of foreign workers can be a difficult process if not adequately prepared. The employer should be mindful that the authority examines the employer in addition to the prospective employee. It is not enough to apply based on the merits of the prospective employee alone – the employer has to convince the authorities that it is financially sound and in need of foreign workers.
---
Have a question on employing foreign workers?
If you have any question about employing a foreign worker, you can get a Quick Consult with Wayne or any of the lawyers with similar expertise for a transparent, flat fee of S$49. You can expect a call back within 1-2 days on the phone to get legal advice and have your questions answered.
---
This article is written by Wayne Ong from Wayne Ong Law Practice and Ng Shu Yih.
---
You may be interested in these articles:
---
This article does not constitute legal advice or a legal opinion on any matter discussed and, accordingly, it should not be relied upon. It should not be regarded as a comprehensive statement of the law and practice in this area. If you require any advice or information, please speak to practicing lawyer in your jurisdiction. No individual who is a member, partner, shareholder or consultant of, in or to any constituent part of Interstellar Group Pte. Ltd. accepts or assumes responsibility, or has any liability, to any person in respect of this article.