Reading Time:
6
minutes
Asia Law Network has partnered with the Singapore Corporate Counsel Association (SCCA), a professional body that connects the Singapore in-house community, to bring a series of interviews featuring prominent in-house counsel.
In the first of our interviews, we feature Andrew Ong, Head of Legal and Compliance at KONE Pte Ltd, a company which primarily supplies elevators, escalators and associated services. Andrew chats about his legal journey and lets us in on how he came to earn the nickname, "Friendly KONE Lawyer".
What made you choose to be a lawyer and what drives you today?
It was actually a process of elimination. Initially, I wanted to be an engineer as it was something my Dad did. But he told me "don't be an engineer, it's terrible". After he brought me to see some of his friends who worked as engineers, I decided that engineering was not for me.
Back when I was doing my A-levels, I worked with my auntie, who was a lawyer at that time. I found the experience pretty okay and not too bad. That's how I ended up in law school. I also learnt to like the study of law. I enjoyed the rigour and the methodological thought process required.
What made you choose to go in-house?
I didn't like working in a law firm environment – that part didn't thrill me. It was long hours and I felt like I was just churning out work, doing billable hours without seeing the end result of my advice. That was when I decided that I wanted to be more involved in the business.
I made the leap to in-house roughly after 3 years in private practice. At that time, the in-house legal landscape in Singapore was not that developed. People often say that going in-house is taking the less stressful route but I do think that the stresses are different. As an in-house counsel, you cannot just dismiss your clients and say that this is a commercial decision. You are part of the company and the decision-making process. You have to execute whatever you are advising.
Describe your experience when you first joined KONE as in-house counsel. What have you learnt and who did you learn from?
Before my current stint with KONE, I was working as in-house counsel with Nokia. For an in-house counsel to add loads of value, you really have to understand the industry you are in.
Although both KONE and Nokia are Finnish companies, there are in different industries. It was a bit of a challenge switching from the telecommunication industry to the construction industry. My first 6 months was a scramble, as I tried to learn about the industry that KONE was involved in as well as the different market segments. Fortunately, KONE is quite a well established company with a strong legal department in Finland. I enjoyed a lot of support and help, especially from my predecessor, who supported Asia out of Finland.
I've learnt that it is important to customize the advice so that it is easily understandable. In KONE, we deal with people with different language capabilities and educational backgrounds. When I have to talk to a technician based overseas, I make sure that what I tell him is clear enough to understand and apply. There is no point spewing any Latin or case law. That is where the added value for in-house counsel come in. We understand the business, we know the people and we craft legal advice in a format that can be easily applied across the board.
Another lesson that I've learnt is that hiring good people is important. I hire people who are better and smarter than me. I think it's important to remember that you are not going to be here forever and you want to hire a team that can support the company. As my previous boss used to say, "if you don't have someone to succeed you, you cannot move up higher".
What is the most challenging aspect of your job?
Dealing with different people is the most challenging aspect of my job. It is not so much about legal issues- the law is the law. But as an in-house counsel, you have to deal with different people, across different cultures and distances. You have to convince your customers and your own internal employees that what you are advising is the right thing to do.
What types of matters require you to seek outside counsel?
We will usually try to handle as much as we can in-house. However, if a matter turns litigious, we will hand it over to external lawyers and instruct them.
We will also approach outside counsel for inputs if there are any gaps in our own knowledge. One area which was pretty new was the Building and Construction Industry Security of Payment Act. When it was first introduced, we took action against one of our customers who did not pay for services supplied. It was not too difficult because we could get expert advice from outside counsel.
How do you pick the law firms or lawyers to work with?
We choose law firms based on a combination of factors. Established multinational corporations like KONE usually have a panel of lawyers. If companies don't have a panel, the in-house counsel will have to decide who should be on the panel.
We also rely on our network and community to pick lawyers to work with. Within the Singapore Corporate Counsel Association (SCCA), we have many General Counsel and we also have a Whatsapp group. I can always ask "is this lawyer good?" and someone else can say "no, he bills too much" or "yes, that guy gives good business friendly advice".
What are some of the common misconceptions about being an in-house counsel?
One misconception is that the hours are shorter and that the pressure is less. To a certain extent, you are more in control of your time. One of the main benefits as in-house counsel is that you have lot more visibility on what is happening because you are part of the management team. You have a pulse on the organisation and you can see what is coming up in the pipeline.
However, hours may not be necessarily shorter as well because you have to factor in travel. Most of the in-house counsel in Singapore have regional roles and have to juggle various workloads in the different countries.
What do you think about the future of lawyering?
I think that the legal landscape is going to be more stratified. I say that because the voluminous and repetitive work will likely be replaced by artificial intelligence (AI). In the past, these tasks were often outsourced overseas. But now, with AI that can work around the clock, it is likely that these tasks will be completed with technology. We'll need to learn how to co-exist with AIs and create our own space in the value chain. 
I also think that business minded advice will be even more important in the future. This is because it will be a bit more difficult for artificial intelligence to look at industry specific issues and consider various factors: political, risk landscape, insurance, profit & loss, personalities involved and so on.  For an in-house counsel at least, this is an area that we can add value. It may be difficult for an AI-bot to replace us.
What skills do you think young lawyers need to stay relevant in the future?
The most important things is to stay agile and keep learning. Young lawyers should not be afraid of hard work.
We all go through different chapters and phases in our life. When you are younger and just starting out, you do not have so many family commitments. You can spend a lot of time at work to build up your expertise and foundation. It is a bit like being an athlete, where you spend 10,000 hours doing one thing and become an expert. Although it may seem quite futile at times, the discipline and hardwork will pay off.
If you decide that the partnership track is not for you, you can always choose to go in-house. You do not have to feel constrained. Many of my batchmates who studied law have gone on into education, media and other different paths.
How did you earn the nickname "Friendly KONE Lawyer"?
Coming from Nokia, I see the importance of branding. When I first joined KONE, there was no legal function based in Singapore. Initially, people were a bit apprehensive to approach the legal team as there was no lawyer before. In response, I decided to come up with a branding exercise. In all my presentations, I would say "I'm your KONE friendly lawyer".
The label stuck and somebody even made a cup for me which says "Trust me, I'm your friendly KONE lawyer". This label went so far up until one day, my CEO from Finland came and he said "Andrew, I heard you're the KONE friendly lawyer". I think my initiative helped to create a friendly face for the legal team.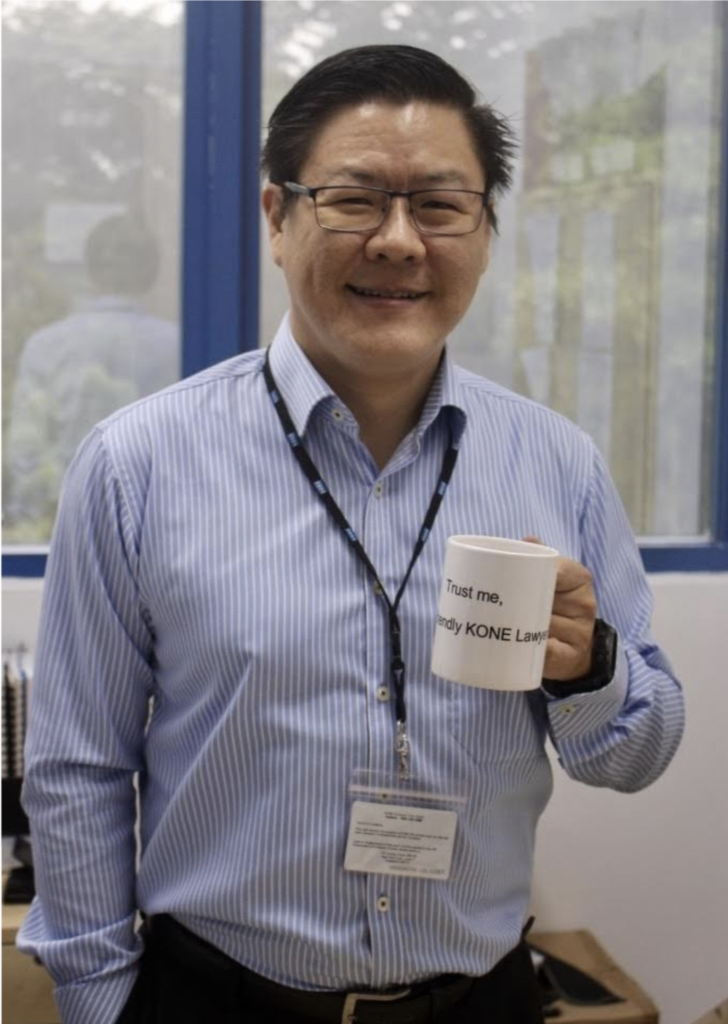 Andrew with his "Friendly KONE Lawyer" mug
Fun Facts about yourself?
When I was in Finland, I used to enjoy going to the sauna with friends. After the hot sauna, we would dip ourselves into the icy cold lake. As you enter the lake, you can see the steam rising from your back and feel pins and needles across your body. When in Finland, you do what the Finns do!
---
This article does not constitute legal advice or a legal opinion on any matter discussed and, accordingly, it should not be relied upon. It should not be regarded as a comprehensive statement of the law and practice in this area. If you require any advice or information, please speak to practicing lawyer in your jurisdiction. No individual who is a member, partner, shareholder or consultant of, in or to any constituent part of Interstellar Group Pte. Ltd. accepts or assumes responsibility, or has any liability, to any person in respect of this article.
---
Continue Reading: