Reading Time:
3
minutes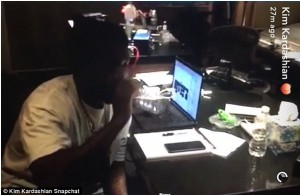 The interwebs were recently ablaze with a Snapchat video of a phone conversation between Kanye West and Taylor Swift.  Leaked by Kim Kardashian, the video shows West asking Swift for her opinion on a line from his song "Famous".
This video is the latest twist in a bitter feud between West and Swift.  West's song "Famous" contained the lyrics: "I feel like me and Taylor might still have sex / Why? I made that b*tch famous". Amid public outrage, he claimed that he had gotten Swift's approval for the lyrics. Swift then released a statement through her publicist disputing any sort of approval sought by West. However, this recent video questions the authenticity of Swift's claim.
There have also been rumours that Swift had threatened West with legal action for the Snapchat video. Although the actual case will most likely be determined by California law (as the video was reportedly recorded in a Los Angeles studio), it is worth considering if the pop star has a case against West and Kardashian if the events had occurred in Singapore.
Blank Space in the Singapore Penal Code
Unlike Section 632 of the California Penal Code, which expressly protects the recording of confidential information between parties, there is no equivalent section in the Singapore Penal Code. It is not a criminal offence in Singapore for a private individual to record a conversation without the consent of all parties.
If this had happened in Singapore, Swift is unlikely to find fault with West or Kardashian's act of "secretly" recording the video without her knowledge or consent.
Defamation- Was there Bad Blood?
Alternatively, Swift could try to sue West and Kardashian for defamation. Defamation is a statement that injures a third party's reputation. It can occur in the form of a written statement or spoken statement.
A potential obstacle to Swift's case is that there is no obvious spoken or written statement that directly refers to Swift's reputation. Rather the release of the leaked conversation was just an indirect insinuation of Swift's dishonesty and deceitfulness.
However, assuming Swift finds proof a defamatory statement, she is still unlikely to succeed as West and Kardashian can justify their actions. Based on Singapore Law, one defence against defamation is fair comment, where a statement is an expression of opinion based on true facts and relates to a matter of public interest. Although West and Kardashian might have been motivated by an intention to injure or arouse controversy, they will be entitled to this defence as long as they genuinely held the view expressed and their statement was based on true facts.
Breach of Confidence- Did Swift know West was trouble when he called in?
The last alternative in Singapore would be to sue West and Kardashian for a breach of confidence. To establish that there was in fact a breach of confidence, Swift has to prove that
The information she told West had the necessary quality of confidence
The information conveyed was in circumstances that imported an obligation of confidence
There was unauthorized use of the information to the detriment of Swift
However, Swift will find it hard to prove the first two criteria. Throughout the video, Swift does not make any mention that confidential information was conveyed. On the contrary, she even mentioned the possibility of making the conversation known to the media, noting that "if people ask me about it I think it would be great for me to be like, 'Look, he called me and told me the line before it came out. Jokes on you guys, We're fine… right after the song comes out I'm going to be on a Grammys red carpet and they're going to ask me about it and I'll be like, 'He called me.'"
Moreover, the circumstances in which the conversation occurred do not imply any obligation of confidence. As reported by TMZ, West spoke to Swift while on speaker phone. During the conversation, members of the crew as well as call producer Rick Rubin were heard speaking up. In such a public setting, it is hard for Swift to make a case for an obligation of confidence.
Key Takeaways
If this whole Swift-West-Kardashian fiasco had occurred in Singapore, Swift is unlikely to have any form of legal recourse against West or Kardashian. But regardless of what country this occurred in, one thing is certain given the strained relationship between the two parties: Swift and West are never ever getting back together.
---
This article is written by Seah Ern Xu from Asia Law Network.
This article does not constitute legal advice or a legal opinion on any matter discussed and, accordingly, it should not be relied upon. It should not be regarded as a comprehensive statement of the law and practice in this area. If you require any advice or information, please speak to practicing lawyer in your jurisdiction. No individual who is a member, partner, shareholder or consultant of, in or to any constituent part of Interstellar Group Pte. Ltd. accepts or assumes responsibility, or has any liability, to any person in respect of this article.
---