Reading Time:
4
minutes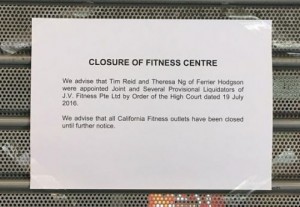 On 20th July 2016, California Fitness customers received notice that the gyms in Novena and Bugis were to be closed with immediate effect. Many were caught by surprise, especially new gym members who had recently purchased gym memberships.
It was also announced that Tim Reid and Theresa Ng of Ferrier Hodgson were appointed as provisional liquidators. This article seeks to explain the legal implications of the recent events.
What does it mean if provisional liquidators are appointed?
The appointment of provisional liquidators signals that the company is beginning the process of "winding up" or "liquidation". A liquidator is an independent entity whose functions are regulated by the Chapter 50 Companies Act. It is likely that California Fitness's decision to appoint a provisional liquidator is because of the debts and liabilities it owes to its creditors.
Ferrier Hodgson's role is to oversee the process of winding up. This process involves taking over the assets owned by California Fitness and selling them to willing buyers. The proceeds of the sale are then used to pay off the company's debts and liabilities owed to its creditors.  After the process of liquidation is completed, California Fitness will go into dissolution and will cease to be in existence.
What can I do to claim back my money?
Registering Claims with Liquidator
The first option for club members is to register their claims for a refund with the liquidator. When the assets owned by California Fitness are sold, the proceeds will first be used to pay off its debts and liabilities. Any surplus amount from the sale will then be disseminated to the contributories of the company or in other ways directed by the company.
However, according to Mr. Nicolas Tang, the Managing Director of Farallon Law Corporation, "the chances are slim because there are numerous creditors who will be claiming back the money through the liquidators. It is unlikely that there will be sufficient money left over for the unsecured creditors like (customers)." He also noted that "the time and legal cost involved would also not make it cost effective".
Small Claims Tribunal 
Alternatively, customers can file a claim through the Small Claims Tribunal. The Small Claims Tribunal hears disputes involving claims not exceeding $10,000. As advertised on their website, the fee for annual membership at California fitness is around $1500. Many customers are likely to have claims that are within the jurisdiction of the Small Claims Tribunal.
It might be possible for new customers who recently purchased gym membership to argue that they were subjected to unfair practice by California Fitness. Such a claim would be based on the Consumer Protection (Fair Trading) Act ("CP(FT)A").
Specifically, section 4 of the CP(FT)A mentions that it is unfair for a company to make a false claim or to take advantage of a customer if the  company knows that the customer is not in a position to protect his or her own interests.
After a claim is lodged at the Tribunal, the Registrar will conduct the initial mediation and consultation where parties try to reach an agreement. However, it is important to note that there will not be any lawyer representation in the Tribunal, which could be a disadvantage to some consumers.
Civil Suit 
Lastly, customers who want to make a large claim above $10,000 can commence a civil suit in the State Courts or the High Court. In such cases, it is likely that customers will need to get lawyer representation. Some possible actions against California Fitness include claims against California Fitness for Misrepresentation or Undue Influence.
However, in cases involving the Small Claims Tribunal or a civil suit, there might be a possibility of court proceedings being stopped. Mr. Nicolas Tang noted that "pursuant to Section 262(3) of the Companies Act (Cap.50) once the liquidator is appointed, all court proceedings against the liquidated company cannot be proceeded with or commenced."
This is regardless of when you commenced legal proceedings. As Mr. Nicolas Tang explained "Once the winding up order is granted, you will not be allowed to continue with proceedings pursuant to Section 262(3) of the Companies Act (Cap.50). This is even if you commenced the claim before the winding up application. If you ignore the winding up order, the Liquidator may inform the Court or appear at the next hearing, and you may be liable for any costs incurred by the other parties for restraining your claim".
Key Takeaways
In the event that a  liquidator is officially appointed and a winding up order is made, it would be virtually impossible or prohibitively difficult for customers to claim a refund.
The recent public outcry after the closure of the California Fitness gyms is a timely reminder of the importance of ensuring a proper "winding up" process.
Businesses that are planning to commence the process of liquidation should be mindful of engaging the relevant stakeholders, which include:
Customers of the Business
Accounting and Corporate Regulatory Authority (ACRA)
Central Provident Fund (CPF) Board
Inland Revenue Authority of Singapore (IRAS)
Other Relevant Licensing Authorities
Consumers should also do their due diligence before entering any contract. This can include
Seeking clarification about the exact terms and conditions of the contract
Researching about the financial position of the company
---
This article is written by Seah Ern Xu from Asia Law Network.
This article does not constitute legal advice or a legal opinion on any matter discussed and, accordingly, it should not be relied upon. It should not be regarded as a comprehensive statement of the law and practice in this area. If you require any advice or information, please speak to practicing lawyer in your jurisdiction. No individual who is a member, partner, shareholder or consultant of, in or to any constituent part of Interstellar Group Pte. Ltd. accepts or assumes responsibility, or has any liability, to any person in respect of this article.
---