Reading Time:
5
minutes
In this series, lawyer Jeremiah Chew from Ascendant Legal LLC introduces competition law in Singapore, what it is about, and takes you through an in-depth study into the various types of anti-competitive conduct in 3 articles to follow.
This guide is divided into the following 8 sections:
What is competition law?
Why does it exist?
Who should care?
Why should I (businesses & consumers) need to understand competition law?
A brief history of competition law in Singapore
The 3 main forms of prohibited conduct
What are the consequences of anti-competitive behaviour?
Preview of the next article…
1. What is competition law?
Competition law, also known as antitrust law in other countries, seeks to ensure that markets operate efficiently, thereby enhancing the competitiveness of the economy. In Singapore, competition law is mainly governed by the Competition Act. The Competition Commission of Singapore, or CCS, is the organisation that enforces the Act.
Competition law in Singapore is mainly concerned with preventing businesses from engaging in anti-competitive conduct. There are other laws which directly protect consumers from unfair business practices, such as the Consumer Protection (Fair Trading) Act.
2. Why does it exist?
Free and fair competition is critical to Singapore's economic success. The Government has therefore endeavoured to open up sectors of Singapore's economy to market competition, wherever appropriate. The Competition Act was enacted to further these goals.
3. Who should care?
As long as you are engaged in economic activity on a daily basis, you will be directly affected by competition. This applies whether you are a business (supplying goods and services) or a consumer (consuming goods and services). Both businesses and consumers will therefore benefit from an understanding of competition law.
4. Why should I (businesses & consumers) need to understand competition law?
If you are thinking of starting your own business, you would no doubt have thought about the challenges you face when entering the market.
If you are an established player in an industry, you will want to carry on doing business on the right side of the law.
Even if you are just an average consumer, you would probably have wondered about the factors that affect the price of the goods and services you purchase daily. You may think that you are being overcharged, or that you are being "bullied" by big companies.
Understanding competition law will allow you to be aware of your rights and obligations as a business or as a consumer. It is absolutely vital in today's economy.
Business owners need to understand what is considered a legitimate business strategy as opposed to a strategy that, while profitable, amounts to unfair competition in the marketplace. Various business strategies or arrangements with competitors may be common in the industry, but may breach competition laws if certain conditions are met. It is equally important for you to be aware of the recourse you have if your competitors are pursuing illegitimate strategies which negatively affect your business and long-term profits.
Individual and corporate consumers stand to benefit from understanding what businesses are legitimately entitled to do. It may come as a surprise that a large number of daily goods and services have been the subject of investigation by the CCS. You or your company may have been victimised in the past, but there is no reason why that should continue.
5. A brief history of competition law in Singapore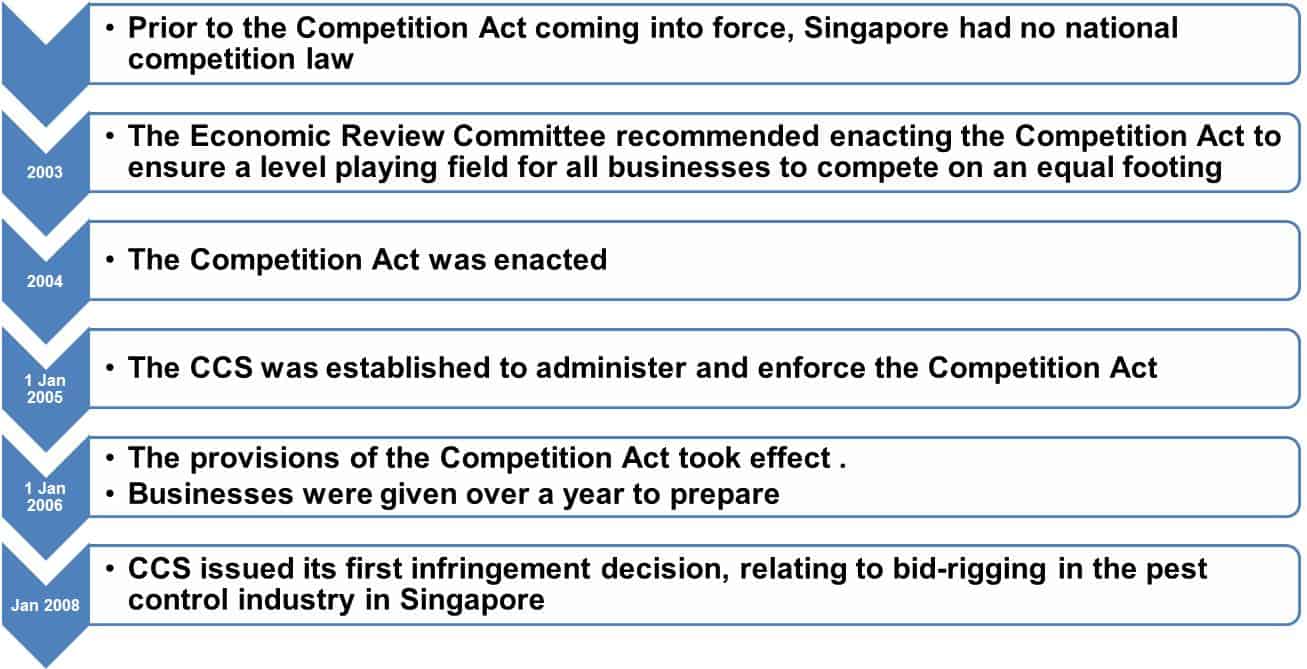 6. 3 main types of prohibited conduct
Conduct 
What it means
Examples 
Anti-Competitive Agreements

To enter into an agreement with another business (usually a competitor offering similar products or services) to do something together that reduces competition in Singapore.

Fixing prices
Rigging bids
Limiting Production

Abuse of dominance

When a dominant business (or group of business) takes action that is intended to eliminate competitors, or to deter potential competitors, resulting in reduced competition in Singapore.

Setting excessively low prices
Implementing discount schemes with the aim of forcing competitors out of the market
Forcing retailers to enter into exclusive purchasing agreements

Anti-Competitive Mergers

 

Mergers that have the effect of substantially lessening competition in Singapore are prohibited.

A merger that results in a monopoly, which has the power to unilaterally raise prices, may substantially lessen competition.
The merger of two large firms may adversely affect competition in a market which is difficult for firms to enter, and where consumers have little power compared to suppliers
7. What are the consequences of anti-competitive behaviour?
The similarity across all 3 prohibited forms of conduct is clear – they can affect both individuals and companies at all levels.
New businesses that are trying to enter a market may find that they are the victims of anti-competitive practices by established, dominant competitors. Existing suppliers of goods and services could be harmed if their competitors engage in practices such as bid-rigging, predatory pricing or tying down retailers to exclusive arrangements.
Breaching competition law also has severe consequences.
Fines — The CCS can fine a business up to 10% of its turnover in Singapore for each year of infringement, up to a maximum of 3 years. For high turnover, low profit types of businesses, the fine can easily lead to financial ruin.
Agreements may be terminated or modified — The CCS may also direct infringers to take certain actions, including modifying / terminating agreements that have already been entered into. Many entrepreneurs in Singapore dream of selling their business for a large profit. But the CCS can block a potential merger or acquisition from taking place if the transaction would adversely affect competition in Singapore. Where a merger has already taken place, the CCS also has the power to dissolve the merger. A dissolved merger would lead to huge amounts of wasted costs, time and effort for all parties involved.
Reputational damage — Last but not least, there is a significant risk of reputational damage, as the CCS will publish a written decision on its website and will often issue media releases.
8. Preview of the next article…
In the next article, we will look at the first form of prohibited conduct – anti-competitive agreements – in detail. Some case studies in this area involving daily goods and services include financial advisors pressuring a competitor to cease offering rebates on life insurance products, employment agencies agreeing to coordinate salaries of foreign domestic workers, and companies rigging bids for electrical or building work projects. Have you unwittingly been paying more than what you have to?
Do check in for my next article soon!
Want to get in touch with me?
Read about me HERE, you can also get in touch with me by clicking the "Request for Quote" button in my profile.
Disclaimer
The information contained in this article is accurate as at the time of publication. All views expressed are solely the opinions of Jeremiah Chew and do not necessarily reflect the opinions of his firm. This article is not to be relied on as legal advice and you are advised to seek legal advice from a solicitor for any questions you may have in relation to the above-mentioned topic. All rights are fully reserved, and you may not reproduce or amend this article in whole or in part without obtaining the prior express written consent of Asia Law Network and Jeremiah Chew.
---
This article is written by Jeremiah Chew from Ascendent Legal LLP.
This article does not constitute legal advice or a legal opinion on any matter discussed and, accordingly, it should not be relied upon. It should not be regarded as a comprehensive statement of the law and practice in this area. If you require any advice or information, please speak to practicing lawyer in your jurisdiction. No individual who is a member, partner, shareholder or consultant of, in or to any constituent part of Interstellar Group Pte. Ltd. accepts or assumes responsibility, or has any liability, to any person in respect of this article.
---