Reading Time:
7
minutes
In a three-part series, lawyer Edmund Lam shares more about white-collar crimes and illustrations of the different types of white-collar crimes.
In the first part of this series, Edmund shares more about white-collar crimes and provides illustrations on money laundering and signing of false certificates.
---
To many of us, white-collar crime stories seem to be something out of a blockbuster movie or television drama. However, white-collar crime in Singapore is a reality. A 2014 study found that more than 29% of companies surveyed had experienced corporate fraud in the preceding two years. 58% of such incidents were perpetrated by the company's own employees, and 17% involved board members and senior management. As a hub for commercial and financial activities, this comes as no surprise.
The Commercial Affairs Department ("CAD") of the Singapore Police Force, which is responsible for investigating white-collar crimes in Singapore, reported that it had seized approximately $164.5 million from foreign predicate offences in 2016 from $33.6 million in 2015. The number of joint investigations into money laundering offences also rose from 5 to 13 cases in that same period. Earlier this year, the CAD has also declared a goal to target ill-gotten gains "more proactively," especially those from overseas.
What is white-collar crime?
While there is no one fixed definition of white-collar crime, it can be broadly described as a non-violent crime, committed in a predominantly corporate or business context, commonly motivated by economic gain or business advantage.
Some may mentally visualise white-collar crimes as crimes committed by people wearing a shirt with a white-collar sitting in an office rather than people in blue overalls performing technical tasks. However, in today's day and age, such distinctions are blurred due to changing workplace environments, making it even more challenging to nail down a definition with bright lines.  That said, white-collar crimes are often committed by people in the course of their occupations, such as company directors, officers, employees, partners and professionals, resulting in wrongful loss to their employers, partners and/or clients. There are often elements of dishonesty, fraud or wrongful gain in such crimes.
White-collar crimes can also extend to the conduct of businesses that are illegal by its very nature (or illegal if unlicensed) or operating businesses with illegal business models. It is about both what is done and how it is down. Such crimes may be committed through complex schemes with high levels of sophistication or simple amateurish techniques that prey on the victims' vulnerabilities, greed and/or gullibility (e.g. internet love scams).
Judicial Attitudes
Whatever the definition of white-collar crime, the Singapore judiciary will view the seriousness of such crimes from the context of the profile of the offender, the current business environment and wider negative impact on public interest and commerce,
"Judicial attitudes towards the punishment of white-collar crime must strive to remain current and relevant and must reflect the wider public interest. It should be acknowledged that fines for the well-heeled often fail to amount to either sufficient or meaningful deterrence. White-collar crimes, especially financial market-related crimes, often have wider ramifications and repercussions on many more persons and financial institutions as well as a far more significant impact on market confidence than offences against the person which by and large entail more limited consequences."
It can be seen from the above quote that the Singapore courts take a progressive outcome approach when sentencing.
Sources of law
In Singapore, there is no single piece of legislation that encompasses all white-collar crimes. Offences are enacted through various legislation and enforced by different government agencies which may cooperate to jointly investigate cases.  For example, CAD and the Monetary Authority of Singapore had conducted joint investigations into the trading of Asiasons Capital Ltd, Blumont Group Ltd and LionGold Corp Ltd shares.
Examples of legislation that cover white-collar offences include:
Betting Act (Cap. 21)
Chit Funds Act (Cap. 39)
Commodity Trading Act (Cap. 48A)
Common Gaming Houses Act (Cap. 49)
Companies Act (Cap. 50)
Computer Misuse and Cybersecurity Act (Cap. 50A)
Corruption, Drug Trafficking and Other Serious Crimes (Confiscation of Benefits) Act (Cap. 65A) ("CSDA")
Financial Advisers Act (Cap. 110)
Multi-Level Marketing and Pyramid Selling (Prohibition) Act (Cap. 190)
Penal Code (Cap. 224)
Prevention of Corruption Act (Cap. 241)
Remote Gambling Act 2014
Securities and Futures Act (Cap. 289)
Illustrations of white-collar crimes
There is a wide range of white-collar crimes, punishable by fines and/or imprisonment.  There are also many permutations and ways to commit them as they are not mutually exclusive.  Many a times, one white-collar crime will lead to more down the slippery road to cover one's tracks.  These perpetrators are forced to keep digging ever deeper holes to cover other holes even though one of these holes could eventually collapse on them.
To better illustrate some of these laws in Singapore without dumping raw technical jargon or embarking on an 'exciting' read of a dictionary like article, the approach by Hannah Arendt would seem most appropriate; "storytelling reveals meaning without committing the error of defining it."  
Money-laundering
Yap became acquainted with "Laura", an online persona, via an online dating website. Laura purported to be an American businesswoman, who sells high-value goods such as gold and antiques, with the intention of relocating to Singapore permanently. She was "very single" and looking for a "responsible honest man who can make (her) have happiness and joy" as "this is the right time to get settled". Yap and Laura communicated through various modes including text messages, emails, and Yahoo messenger. They started expressing an interest to meet each other and eventually professing their romantic feelings mutually.
In the course of their 'relationship', Yap agreed, at Laura's request, to receive a sum of money into his bank account in Singapore for her to pay tax liabilities which she had unexpectedly incurred for goods purchased for a customer. Laura had explained to Yap that she was a foreigner in Malaysia and did not have a bank account or a company registered to receive the money in Malaysia. Yap provided Laura with his bank account details in order to receive the funds and also created an invoice and receipts to 'account for the monies'.
Red flags appeared after the monies were transferred to Yap's account. The amounts were higher than originally indicated. Laura had asked for monies to be withdrawn and handed over to money couriers not at one go, but over several transactions. She repeatedly broke her promises of flying to Singapore to meet him. Her reasons did not add up and she failed to provide any particulars of where she was staying when Yap wanted to go and see her. However, he continued to transfer the funds received to various third parties in either large amounts of cash or via bank transfers to local and foreign accounts.
Yap asserted in his defence that he was a victim of a clever deception by the perpetrators behind the persona of "Laura" who duped him into thinking that there was a prospect of marriage with Laura. He had helped Laura based on a genuine belief that Laura was caught in a legitimate commercial predicament.
Although the court accepted that Yap clearly harboured hopes of a new romantic relationship when Laura finally appeared, the law still expected him to be in possession of his rational mind. At the end of the day, he ought to have realised that he did not really know who Laura was. Despite all the professions of love, he really had no basis to accept Laura's words without question. With his experience and knowledge of commercial transactions as a housing agent, he ought to have known that Laura's words could not be accepted at face value and that she was not telling the truth about the nature of the transaction. He could not use the excuse of being overwhelmed by love to become an unthinking simpleton and swallow everything that was being fed to him. Yap clearly chose to blind himself to the obvious.
Yap was sentenced to an aggregate of 30 months imprisonment after being convicted of 1 charge under section 411(1) of the Penal Code (Cap 224) for dishonestly receiving stolen monies into his bank account and 4 charges under section 47(1)(b) of the Corruption, Drug Trafficking and Other Serious Crimes (Confiscation of Benefits) Act (Cap 65A) for transferring out the monies received which directly represented his benefit from the above criminal conduct.
Lessons – Beware of internet love scams! This was a love story gone so wrong that it became criminal. Not only did he lose his heart, he was further to manipulated into becoming a law-breaking money mule. When was dealing with an online persona, the law expects common sense to dictate and caution be exercised as blinded belief just will not vindicate. Love may be blind but the law expects one to see.
Signing False Certificates
Dr Kwan, a medical practitioner, falsely certified the causes of death for two deceased persons. He knew that the causes of death which he had stated were without any basis and thus false and inaccurate. Dr Kwan had also fabricated evidence during the Singapore Medical Council's inquiries into his alleged misconduct in respect of those false certifications in a bid to induce the discontinuance of those disciplinary proceedings against him. He crafted a letter, with false content, for the next-of-kin of one of the deceased persons to sign. When Dr Kwan was asked to produce his case notes for the two deaths to the CAD, he created case notes with false information.
Dr Kwan pleaded guilty to signing false certificates, furnishing false information and fabricating evidence. He was sentenced to 9 months' imprisonment. A month before he was sentenced, the Coroner's Inquiry into the cause of one of the deceased's death was inconclusive. Dr Kwan's conduct had compromised the Coroner's ability to determine with certainty whether her death was due to a natural or unnatural cause.
Lessons – Unfortunately, people from honourable professions do commit white-collar crimes. Sometimes, their motives are unclear. In this case, Dr Kwan's incentives for doing so continue to be a mystery to the public even after the Honourable Chief Justice had earlier highlighted his concern in this respect when the Court of Three Judges, on this rare occasion, referred the matter to the Attorney-General for possible criminal investigation.
---
Stay tuned for the second part of this series where Edmund shares illustrations on criminal breach of trust, corporate fraud, and securities fraud!
---
Looking for legal advice?
If you need legal advice, you can get a Quick Consult with Edmund Lam or other lawyers. With Quick Consult, you can check out in minutes and for a transparent, flat fee, the lawyers will call you back on the phone within 1-2 days to answer your questions and give you legal advice.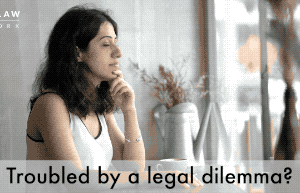 ---
This article is written by Edmund Lam from LHM Law Corporation and edited by Leanne Cheng from Asia Law Network.
This article does not constitute legal advice or a legal opinion on any matter discussed and, accordingly, it should not be relied upon. It should not be regarded as a comprehensive statement of the law and practice in this area. If you require any advice or information, please speak to practicing lawyer in your jurisdiction. No individual who is a member, partner, shareholder or consultant of, in or to any constituent part of Interstellar Group Pte. Ltd. accepts or assumes responsibility, or has any liability, to any person in respect of this article.