Reading Time:
2
minutes
On 20 February 2018, the Supreme Court and Ministry of Foreign Affairs ("MFA") concluded a Memorandum of Understanding regarding the Handling of Requests for Technical Assistance in Civil Matters ("2018 MOU"). This new MOU replaces the previous MOU signed on 13 February 2013 ("2013 MOU").
Unlike the 2013 MOU, the 2018 MOU is supported with concrete guidelines in the form of three cooperation agreements on (i) the standardization of documents for letters rogatory and service of process; (ii) delivery mechanism and costs; and (iii) education and training curriculum for judges, registrars and bailiffs to effectively provide judicial assistance. Further, the Supreme Court and MFA formed a team comprising of its respective officials and staff to monitor and evaluate the implementation of the 2018 MOU. As such, the 2018 MOU provides a clearer framework for the exchange of documents between parties in different states.
There are two types of technical assistance. The first type is letters rogatory, which is a request to obtain legal information or document (e.g. identification of assets or witness statement). The second type is the service of process (e.g. lawsuits, court summons or court decisions).
Within the judicial assistance process under the 2018 MOU, the Supreme Court acts as an intermediary to verify and facilitate the delivery of documents between the relevant instances, whereas the MFA has appointed its specific departments as a part of its diplomatic channels.
The 2018 MOU is silent on the duration of serving documents abroad, but it is equipped with a tracking sysrem under the Rogatory Online Monitoring application launched in 2015
A comparative table between the judicial assistance procedures regulated under the 2013 MOU and the 2018 MOU is enclosed on the next page.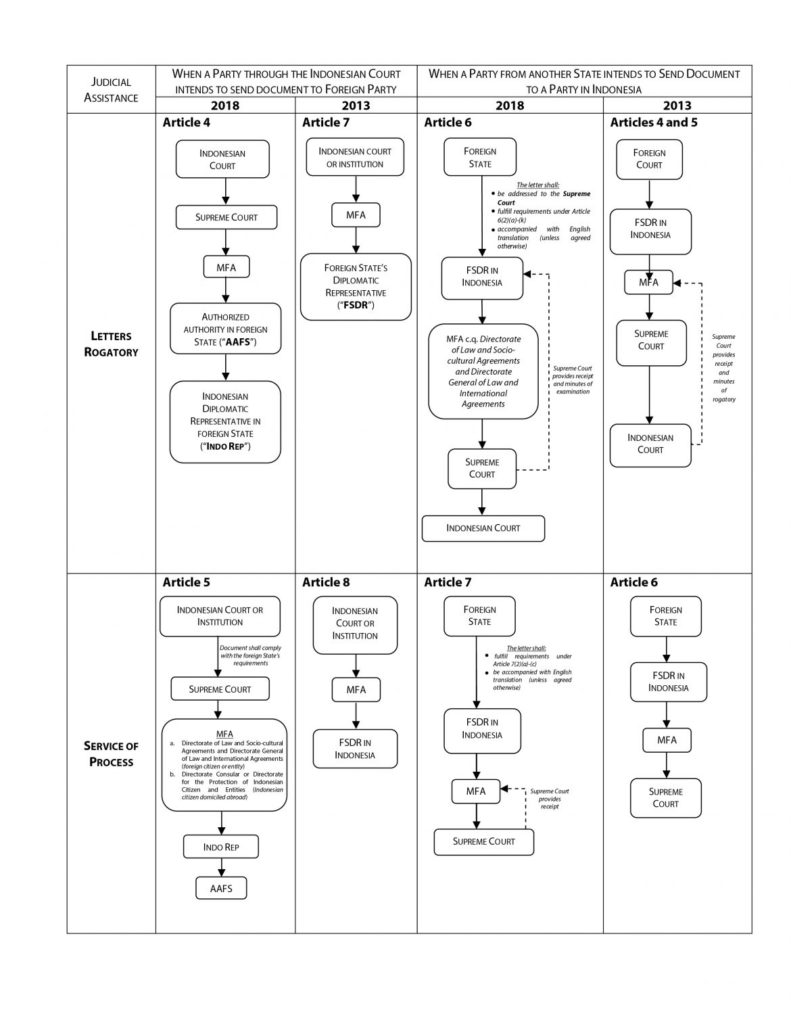 ---
Have any questions?
If you have any questions or need legal advice, you can get a Quick Consult with other lawyers with similar expertise. With Quick Consult, from a transparent, flat fee from $49, a lawyer will call you back within 1-2 days to answer your questions.
---
This article was written by Budidjaja International Lawyers and can be found on their website.
This article does not constitute legal advice or a legal opinion on any matter discussed and, accordingly, it should not be relied upon. It should not be regarded as a comprehensive statement of the law and practice in this area. If you require any advice or information, please speak to practicing lawyer in your jurisdiction. No individual who is a member, partner, shareholder or consultant of, in or to any constituent part of Interstellar Group Pte. Ltd. accepts or assumes responsibility, or has any liability, to any person in respect of this article.