Reading Time:
3
minutes
How can you search for a lawyer online?
So you decided to search for a lawyer online. You fire up good old Google and the search engine responds. According to the Law Society of Singapore, there are about 4,834 practitioners in 879 law firms in Singapore. That's a lot of lawyers that are going to appear in Google.
Some online lawyers have really impressive resumes. You consider Lawyer A but realize that Lawyer B is also pretty good. Not sure how to decide? You should definitely read on because we prepared a non-exhaustive checklist of the things you should take note of when selecting a lawyer online.
Just before we go into the list, it is worth highlighting that although you can make a choice of a lawyer based on their online profile, it is advisable that you do a few more things to make a more informed decision. You might also want to:
Write-in and request for a quotation for fees.
You should also schedule a free consultation (if the online lawyer offers it) and have a preliminary discussion with the lawyer.
Do this for several lawyers and not just one of them (read this article that explains why it is a benefit to get second opinions)
Having a sensing of the fee structure and a chance to interact with the lawyer will definitely help you to make a more informed choice.
A practical checklist to finding a lawyer online
So let's cut to the chase and look at the checklist that covers the things you should look out for when selecting an online lawyer.
Checklist
Yes
No
Things to look out for in the online profile of the lawyer
1
Is your lawyer qualified to practice in Singapore?
Your lawyer should be admitted to the Singapore Bar and should have  'Advocate & Solicitor, Supreme Court of Singapore' as part of his or her credentials.
He or she should be registered with the Singapore Institute of Legal Education and will have to serve the Attorney-General and Law Society of Singapore a copy of the registration form as well as supporting documents. You can request for proof of credentials if necessary.
2
Does your lawyer have a clean record of disciplinary proceedings?
One pro-tip is to always do a quick google search of the lawyer's name. Certain disciplinary proceedings are made public. If your lawyer is involved in a case that is reported as 'Law Society of Singapore v XXX', this is an indication that they have been actions taken against the lawyer by Singapore's Law Society for behaviour contrary to the professional standards
3
Does the lawyer specialize in the particular problem you are facing?
Most law firm websites do indicate the lawyers and their relevant practice specializations. The lawyer's profile also usually indicates the high-profile cases that he or she has handled before. This is a good way to figure out if your lawyer has the expertise and experience to handle your case.  
Things to look out for in terms of fees
4
Is the lawyer's quote for service within your budget?
It is important that you request for a rough estimate for the service required. If you are using ALN's directory, you can request for a quote through the platform.
Things to look out for during your consultation
5
Is the lawyer able to complete your work within a reasonable time?
It is important that you know the time by which you want the issue to be resolved. If you are unsure about how long your issue typically takes, you should check online or with friends. Alternatively, you can ask for a second opinion from another lawyer to determine if the proposed time is reasonable.
6
Did the lawyer respond to your calls or letters or keep appointments?
It's important that the lawyer is responsive. If he reschedules your first consultation or turns up late, this should trigger some warning bells about the lawyer's competency and ability to prioritize your case.
7
Did the lawyer explain to you important developments in your matter
a. explain to you the manner in which you would be charged,
Different firms offer different price structures. A more detailed explanation of fixed-fees, billable hours and retainers can be found here.
b. describe payments you would be required to make,
Your lawyer should inform you on the payment methods and timing of payment for services
c. provide an estimate of fees to you, deliver bills of costs to you at regular intervals
A competent and experienced lawyer should be able to estimate the rough cost of your legal issue
8
Did the lawyer discuss with you the possible risks or expense of proceeding with your matter?
The best lawyers will not always say 'Yes'. It is important that you check with your lawyer on the potential risks that you are exposed to.
If the online lawyer gets a resounding 'Yes' to all questions, the particular lawyer is probably a good fit for your case!
For legal issues that involve high stakes and potentially a lot of money, it is useful to get a different perspective on the issue before making an informed choice. You can run through this checklist for the different online lawyers and should not just settle for the first lawyer you can find.
---
Finding a lawyer online
Asia Law Network can help your search in several ways, particularly if you need help urgently and if you do not have a strong legal network to call on yourself.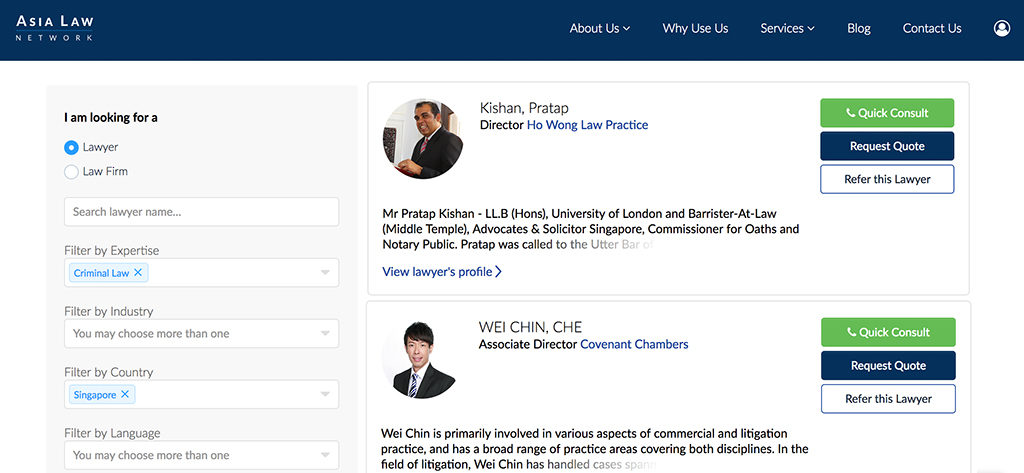 Choosing a lawyer can be made easy with a checklist. You should always be on the lookout for hygiene factors that disqualify certain lawyers (e.g. disciplinary records, lack of transparency in scope) while making sure that the lawyer you select fulfills the decision-making factors (e.g good track record, relevant expertise).
You might also want to read this article on how to find the best Singapore lawyer for your case.
Need legal advice now?
Get legal advice from a practicing lawyer over the phone within 48 hours for a transparent, flat fee starting at S$49. You can click on the image above or this link to get started.
---
This article is written by Seah Ern Xu from Asia Law Network.
This article does not constitute legal advice or a legal opinion on any matter discussed and, accordingly, it should not be relied upon. It should not be regarded as a comprehensive statement of the law and practice in this area. If you require any advice or information, please speak to practicing lawyer in your jurisdiction. No individual who is a member, partner, shareholder or consultant of, in or to any constituent part of Interstellar Group Pte. Ltd. accepts or assumes responsibility, or has any liability, to any person in respect of this article.
---