Reading Time:
2
minutes
Ever wondered how many lawyers there are in Singapore?
According to the Law Society of Singapore, there are 4,834 lawyers with practicing certificates in Singapore as of 2015.
A lawyer in Singapore must have a practicing certificate to practice
It is mandatory for a lawyer to have a valid practicing certificate issued by the Law Society of Singapore if they want to practice and dispense legal advice. Lawyers apply and renew for their practicing certificates every year. The number of lawyers in Singapore grew at a rate of about 6% a year for the last 4 years and this trend is expected to continue. However, this does not include other legal practitioners in Singapore (read on about this).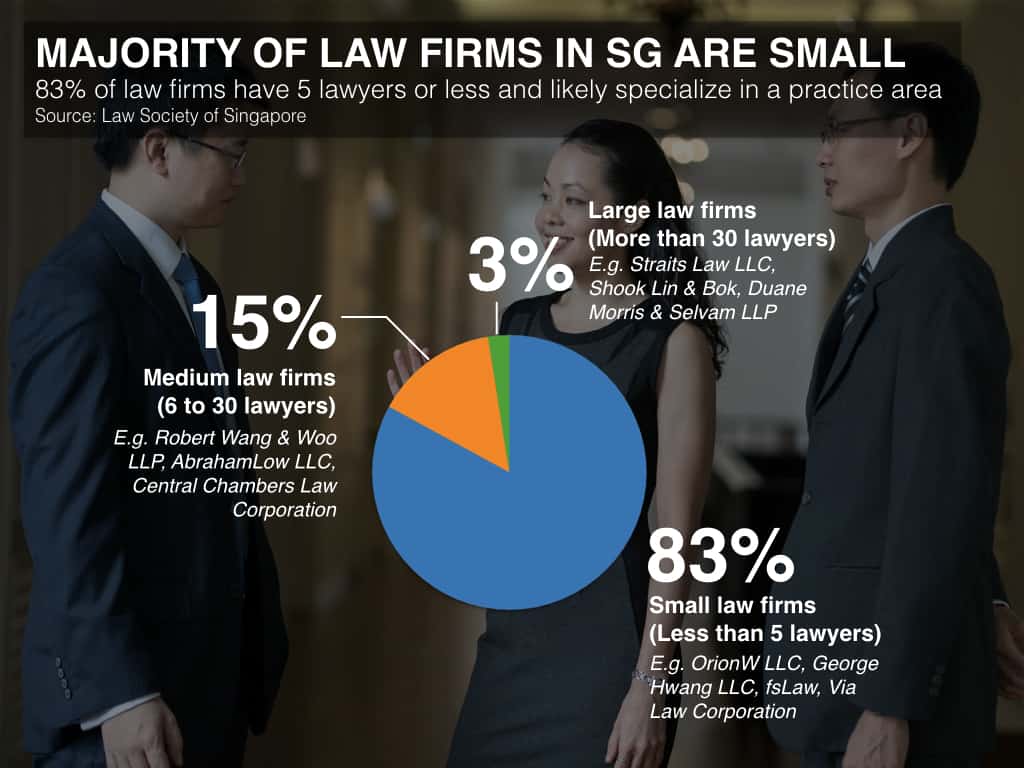 83% of law firms are small law firms
83% of law firms are actually not the big law firm names that you might know but are smaller law firms with less than 5 lawyers. While these smaller law firms may not have the breadth of service offerings that larger firms have, they are likely to specialise in a specific practice area. These firms are often great options to get legal services from, although it can be challenging locating the right law firm and lawyer. Asia Law Network offers a great way to find the right lawyer and law firm with the relevant expertise for your legal help through our legal directory.
So What?
These smaller law firms may be a better fit for some people and businesses because of their specialisation. Finding these firms isn't always easy, but we will discuss how to choose a legal firm in our next article so do keep an eye on it!
---
Are there alternatives to practicing the law as a practicing lawyer?
According to the Ministry of Law, there are other alternatives to working in the legal field for those who are not practicing lawyers that is not yet included in the count above. These include:
Working as an in-house legal counsel for companies
Practising in permitted areas of Singapore Law as a foreign practitioner
Practicing foreign law as a foreign lawyer
There are approximately 1,200 foreign lawyers in Singapore.
---
Get a Quick Consult for your legal needs
Get started on resolving your legal problems now. Quick Consult is a service where a lawyer will call you back within 1-2 days for a transparent, flat fee starting at S$49 to answer your questions and give legal advice.
---
This article does not constitute legal advice or a legal opinion on any matter discussed and, accordingly, it should not be relied upon. It should not be regarded as a comprehensive statement of the law and practice in this area. If you require any advice or information, please speak to practicing lawyer in your jurisdiction. No individual who is a member, partner, shareholder or consultant of, in or to any constituent part of Interstellar Group Pte. Ltd. accepts or assumes responsibility, or has any liability, to any person in respect of this article.