Reading Time:
8
minutes
What is a lemon law?
Lemon laws are consumer protection laws that provide remedies to consumers who have been given defective goods. The name dates back to the 1960s when new cars with several manufacturing defects were referred to as "lemons", and laws were passed to combat a proliferation of said cars. Over the years, the term "lemons" has taken on a much wider meaning and now refers to any goods that fail to meet a satisfactory standard established either by contract or by law at the time of performance.
Consumer protection in Singapore
Singapore's lemon law is a recent creation. It comes in the form of amendments to the Consumer Protection (Fair Trading) Act (the "Act") that came into effect in late 2012. You can find the relevant provisions at Sections 12A to 12V of the Act, which can be accessed online by the general public here. 
Apart from containing Singapore's lemon law, the Act also allows consumers to seek civil remedies against certain recognised unfair trade practices. It confers additional rights in respect of (i) contracts for sale of goods, (ii) contracts for the transfer of goods, and (iii) hire-purchase agreements, all of which we will come across in our daily lives e.g. buying a vacuum cleaner or a car for the family.
What does the lemon law cover?
#1    All personal property except for money and things in action
Singapore's lemon law applies to all general physical goods purchased in Singapore with the exception of real property and rental/leased goods. Items as small as stationery are protected together with bigger items such as cars and electronics. Services are not covered by the lemon law.
#2    New and second-hand goods
Both new and second-hand goods are covered, but the age and condition of the latter will be taken into consideration as it will affect the remedies available to the consumer.
#3    Display/discounted/sale items covered in some cases
Consumers who buy discounted or sale items are not excluded from protection. A seller cannot escape his obligations under the lemon law merely by putting up a general notice stating "no refunds under any circumstances", "sold as it is", or "non-refundable/exchangeable items". He or she must clearly point out the defect to the buyer before the transaction takes place, i.e. through appropriate labelling and disclaimers in a sale contract, invoice, or packaging.
If the seller has taken the correct steps to highlight the defect to consumers before parties "seal the deal" OR if the defect would have been revealed during a pre-purchase inspection, then consumers are not able to rely on the lemon law to seek redress for defective goods.
#4    Online transactions
Today, consumers are buying increasing amounts of physical goods online because of the wide range of available products and sheer convenience. It is important to note that such online transactions are covered only if:
physical goods are bought – virtual products like special sets of armour in an online game are not covered by the lemon law; and
the contract was concluded in Singapore and/or is governed by Singapore law.
#5    B2C transactions between registered businesses and consumers only
The lemon law does not cover individuals who contract in a business capacity (i.e. private-hire cars) or individuals who contract on behalf of a company. It also does not cover purchases. Similarly, private sales between individuals (e.g. through classified ads) are excluded from protection.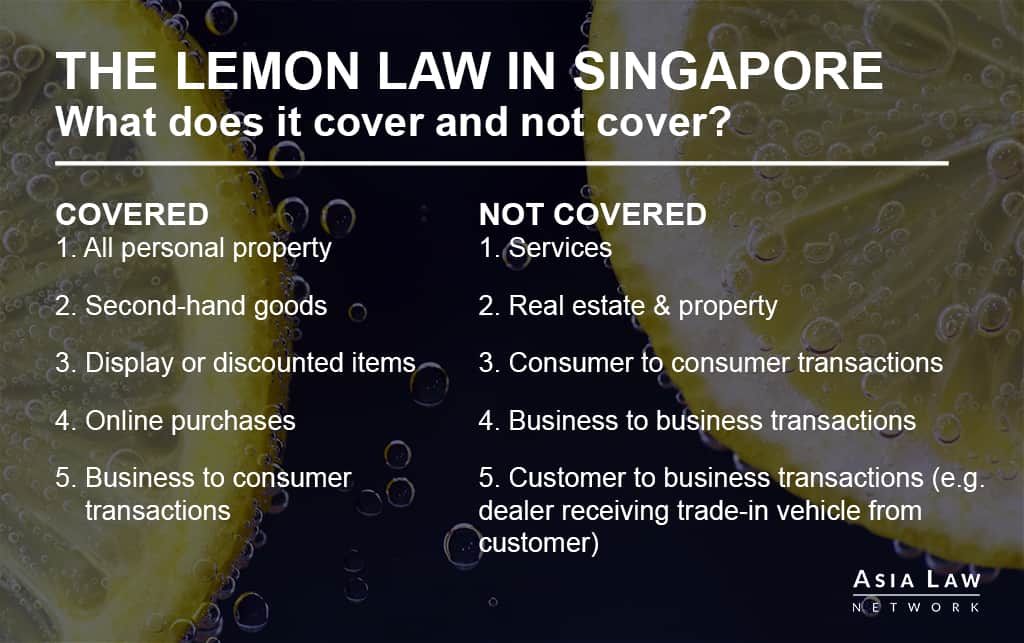 How does the lemon law work?
As consumers, you can make a claim under the lemon law for goods (as described above) that are (a) found to be defective, or (b) "not conforming to the sales contract at the time of delivery" within six (6) months of sale or delivery.
However, should you only discover the defect more than six (6) months after sale or delivery, you are not barred from relying on the lemon law. However, you would have to prove to the court that the defects or non-conformity existed at the time of delivery. The court will not assume that they did.
When is a product defective / when does it not conform?
A product is defective if it does not conform to the sales contract at the time of delivery, i.e. it is what you contracted for and/or it does not fulfil the standards of what the law has been defined to be "reasonable quality".
To put it simply, an item is of satisfactory quality if a reasonable person thinks so, taking into account any description of the item, the price (if relevant), and all other relevant circumstances. You have to prove that such standards have not been met.
The quality of an item refers to its state and condition, including but not limited to:
Being fit for the purposes that the item supplied is commonly supposed to be fit for;
Appearance and finish;
Freedom for minor defect;
Safety; and
Durability
Remedies
If the seller has indeed handed you goods that are lemons (as defined above), you can make lemonade by requiring him to carry out his obligations to:-
repair or replace the goods;
offer a reduction in price; or
offer a full refund.
The availability of the remedies above is dependent on whether there are existing manufacturers' or distributors' warranty services. If there are, the seller can provide remedies under the warranty services first. The consumer is not allowed to refuse them and demand, for example, a full cash refund instead.
Example 1:
You buy a reputable brand kitchen mixing-stand for S$800.00. The mixing attachment breaks the first time you use it. You bring it to the seller, who advises you that it can be repaired because the supplier has covered it under a 3-months warranty. The seller says that he will send it to the supplier's workshop and collect it on your behalf. He also says that he will call you when it is ready.
What can you do:
Since there is a warranty and the seller has opted to provide a remedy under that, you cannot ask for a new mixing stand or full refund.
Two-stage process
Stage 1: Assuming that there are no warranty services, you can first ask the seller to either repair or replace the defective item within a reasonable time provided that it is not impossible or unreasonable to do so. The repair or replacement should also not be significantly inconvenient to you, the consumer.  All necessary costs incurred as a result of the repair or replacement are to be incurred by the seller.
Stage 2: If a replacement or repair under Stage 1 is not possible, the consumer can then (a) keep the defective item and request for a reduction in price OR (b) return the defective item for a refund (the seller can propose a reasonable deduction from the refund for the use that you have had of the item). Any refund of monies is to be made in cash, or using the same mode of payment as the original transaction. Therefore, if a seller offers you vouchers, you are not obligated to accept them.
Example 2:
You bought a reputable brand kitchen mixing-stand for S$800.00 in cash. The mixing attachment breaks the first time you use it. You bring it to the seller, who advises you that there is no warranty offered by the supplier for the item because it is a discontinued item. Because of the latter, he also has no more stock of the item left. The seller then says that he can repair it but it will take 8 months and you would have to order the parts yourself online from USA. Otherwise, sending it for repair with the supplier would cost S$1200.00 and he is not prepared to undertake that cost because it is not reasonable.
What can you do:
Assuming that you were not informed at the point of purchase that your item was the last of its kind and that there were risks in buying it, you would likely be entitled to ask for a full refund because:-
8 months is quite a long time to wait for repair especially when most other items today take less than 4 months to repair;
You would have to buy the parts yourself online from USA, which would no doubt incur significant shipping fees;
Replacement is not possible;
Repair by the supplier is disproportionately costly (150% of the purchase price).
As you paid in cash, the seller must also pay in cash. He cannot offer you vouchers unless you are willing to take them.
When are you unable to make lemonade?
You cannot take advantage of the lemon law, regardless of the time limit, if:-
you damaged the item and/or caused the defect through:

misuse
inappropriate storage or care
unauthorised repair

the defect was caused by natural wear and tear;
you knew about any defects in the item before your purchase (including faults caused by regular wear and tear) before buying the item if:

it was specifically pointed out to you before purchase by the seller
the defect was obvious and would have been spotted upon inspection at the time of purchase

you changed your mind about buying, or found the item unsuitable for a special purpose that was not pointed out to the seller.
Other remedies
Apart from the Act, there are other remedies available to a consumer e.g. the right to reject non-conforming goods under common law and remedies under the Sale of Goods Act. You can read more about these remedies here.  Therefore, do not be discouraged if you find, at first glance, that your situation is not covered by Singapore's lemon law.
Checklist before making a claim
Having read this article summarising the lemon law in Singapore, here is a quick list of questions for you to run through before making a claim:-
Did you buy a product, or a service?
Did you buy the product in Singapore from a registered company?
What kind of defect is there in your item, and how was it caused?
Does the defect make your item different from what was promised to you in the contract?
Putting yourself in the shoes of a third-party, do you think it is reasonable that Have six (6) months passed since you bought the product / the product was delivered? If yes, do you have pictorial proof that there was a defect at the time of delivery or purchase?
Was there a warranty?
Have you tried to arrange for a repair/replacement?
Have you tried asking for a refund?
In any case, if the seller refuses to make good of the defect, or should you be in any need of guidance or clarification at any stage on whether your claim is reasonable and supportable under the law, it would be helpful to approach CASE, or a relevant practising lawyer. 
Frequently Asked Question
A tourist purchased an item from a shop in Singapore. However, the item purchased had a defect and he would like to exchange or get a refund. As the customer is no longer in Singapore, does Lemon Law still applies and if yes, does it mean for retailers to bear shipping fees etc?
As the transaction took place in Singapore, the lemon law would apply on that basis provided that the defects existed in the item at the time of delivery and were not caused by the tourist's own actions. As a retailer, you should take steps to clarify the tourist's claim by asking him/her:-
What the defect is (and pictures thereof, if any);
When the tourist bought the item;
When the tourist noticed the defect;
How he/noticed the defect; and
Request him/her to produce proof of purchase.
After getting the answers to the above, you should then ask yourself:
Whether there is a warranty on the item;
Whether the defect is such that the tourist would immediately have noticed it if he/she had checked before buying;
How much would repairs/replacement and the shipping fees cost in total; and
Whether the costs of repairs/replacement and shipping fees are reasonable compared to the value of the item.
Under s 12C(2)(b) of the Act, a seller must bear any necessary costs of repairing the item including the cost of any postage. However, if the cost of repair/replacement and postage together far exceed the item bought by the tourist, a seller can refuse to repair or replace the item and instead, refund it or offer a reduction in price.
Do also take note of when the tourist bought the product, and when he/she is making the claim on you. If more than 6 months have elapsed, the tourist will then have to prove that the defect was there when he/she bought the product. The court will not assume that the defect was there.
---
Have a question on the Lemon Law?
If you have a legal question about the Lemon Law, you can get a Quick Consult with Kah Hee or other lawyers. With Quick Consult, you can check out in minutes and for a transparent, flat fee of S$49, the lawyers will call you back on the phone within 1-2 days to answer your questions and give you legal advice.
---
This article is written by Lau Kah Hee from Derrick Wong & Lim BC LLP and edited by Tessa Sim from Asia Law Network.
This article does not constitute legal advice or a legal opinion on any matter discussed and, accordingly, it should not be relied upon. It should not be regarded as a comprehensive statement of the law and practice in this area. If you require any advice or information, please speak to a practicing lawyer in your jurisdiction. No individual who is a member, partner, shareholder or consultant of, in or to any constituent part of Interstellar Group Pte. Ltd. accepts or assumes responsibility, or has any liability, to any person in respect of this article.
---