Reading Time:
2
minutes
The average Singaporean needs legal advice approximately 5 times in the course of his or her life according to internal research. These are often tied to various life stages that a typical individual might go through.
Check out this nifty infographic that we created from our internal research which ties the various major life events with the legal services that you are likely to require at that point. This will help give you a sense of what to expect and when. It is important to note that you may not necessarily need a lawyer for all of these instances, but it is highly recommended that you consult one.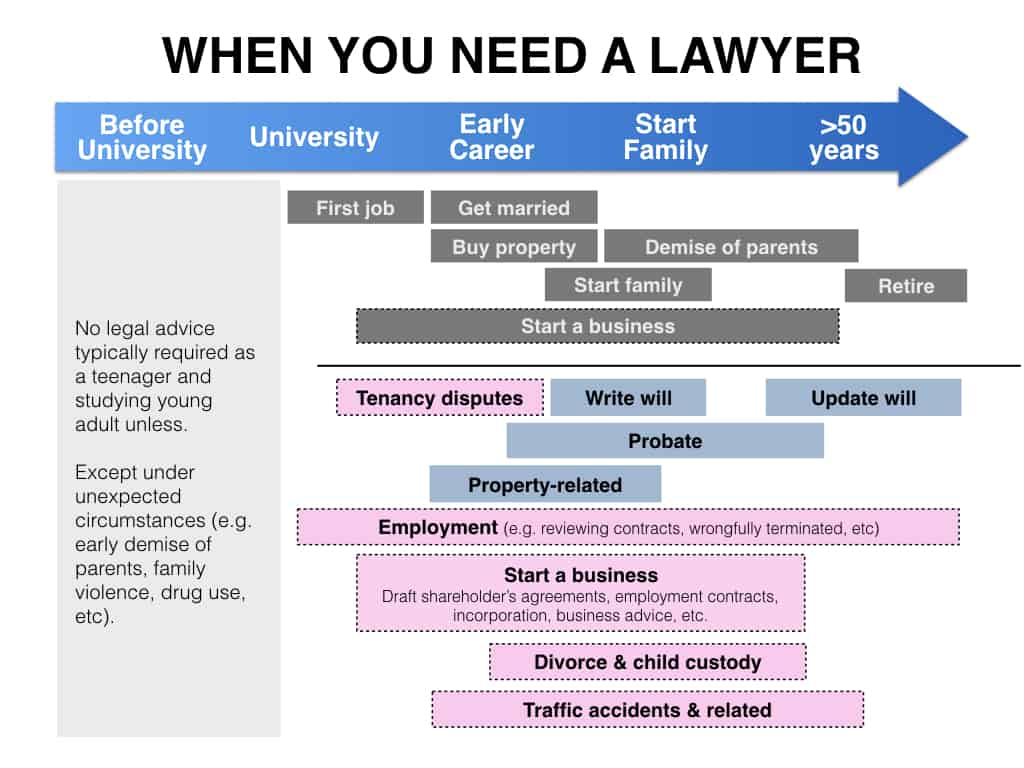 For example (adapted from Law Society of Singapore):
Buying & selling property — lawyer will advise you of the procedures involved, check all documents on your behalf and ensure that the title to the house is good
A family member has passed away — lawyer will apply to the Court so that the possessions and properties of the deceased can be passed on according to the law or the dead person's wishes
Problems with your spouse — lawyer will advise you on divorce, separation, maintenance and custody of your children
Starting a business — lawyer can advise you on best way to structure your company and help draft the necessary agreements and contracts
Signing a contract — lawyer will advise you on your rights and duties under the contract, and may suggest changes to the wording of the contract to protect your interests
Charged with criminal offense — lawyer will advise you on matters relating to your defense and may represent you in Court
---
Get a Quick Consult for your legal needs
Get started on resolving your legal problems now. A Quick Consult lets you speak with a lawyer with the right expertise and experience for 15 minutes on the phone to give you legal guidance on your legal dilemma, all at just $49. It is designed to be fast, easy and affordable.
---
You may be interested in these articles:How many lawyers are there in Singapore? [Infographic]
---
This article does not constitute legal advice or a legal opinion on any matter discussed and, accordingly, it should not be relied upon. It should not be regarded as a comprehensive statement of the law and practice in this area. If you require any advice or information, please speak to practicing lawyer in your jurisdiction. No individual who is a member, partner, shareholder or consultant of, in or to any constituent part of Interstellar Group Pte. Ltd. accepts or assumes responsibility, or has any liability, to any person in respect of this article.