Reading Time:
6
minutes
Asia Law Network has partnered with the Singapore Corporate Counsel Association (SCCA), a professional body that connects the Singapore in-house community, to bring a series of interviews featuring prominent in-house counsel.
In this interview, we feature Shin Min Thng, Regional Counsel (Asia-Pacific) at ON Semiconductor. ON Semiconductor is a Fortune 500 semiconductors supplier company. Shin Min chats about her legal journey and lets us in on her favourite drink. 
What made you choose to be a lawyer and what drives you today?
I wanted to do law because I wanted to be in a profession that made a difference. I had interactions with quite a few senior lawyers at that time and speaking to them inspired me to want to do the same thing. I wanted to do what they were doing to help people.
What keeps me going now is seeing the difference that I make at work, be it in my role as in-house counsel for ON Semiconductor or as a member of the executive committee of the SCCA. Even though I am not in practice, I know that I am still able to make a difference to my company and its employees through the work that I do.
What made you choose to go in-house?
When I went into practice, I knew that I would go in-house at some point. That process ended up being a bit more expedited because I was quite burnt out by my second year of practice.
On hindsight, going in-house at that time was a good-decision because it gave me a headstart in what I always wanted to do. I know it sounds a bit contradictory in that I wanted to do litigation and I also wanted to do in-house work. But I guess there were a lot of things I wanted to do when I was younger. Now, it is clear to me that this is the path that I would have wanted to take.
Describe your experience when you first joined as in-house counsel. What have you learnt and who did you learn from?
My very first in-house counsel role was with StarHub. At the time I was very junior and was the youngest in my department. I went in with a "private practice" mindset and my emails came out very long and looked like legal memos. Very quickly, I learnt that this was not how in-house lawyers work.
I learnt a lot from the senior members in my department, particularly from Pooi Foong, my supervisor as well as Ms. Veronica Lai, the General Counsel of StarHub. They taught me that in-house counsel work was so much than doing the legal analysis of the issues and throwing it to the business people. You are in the business itself and the legal advice you give has a direct impact on the company. I felt personally invested in the legal advice that I was giving and the work I was doing.
In StarHub, I supported the customer service department. It was very interesting for me to see what went behind the scenes in an organisation. I would say that being an in-house counsel has really expanded my mindset.
What unique skillsets do you bring to the executive team?
The ability to empathise is something I bring to the team. In my current role, I support the company's compliance and ethics program, which requires me to conduct investigations and speak to employees who have grievances or feedback to give. Being able to empathise with them, listen to their needs and simplify the conversation are important skills in my current role. This is not something that I had to do in my previous roles.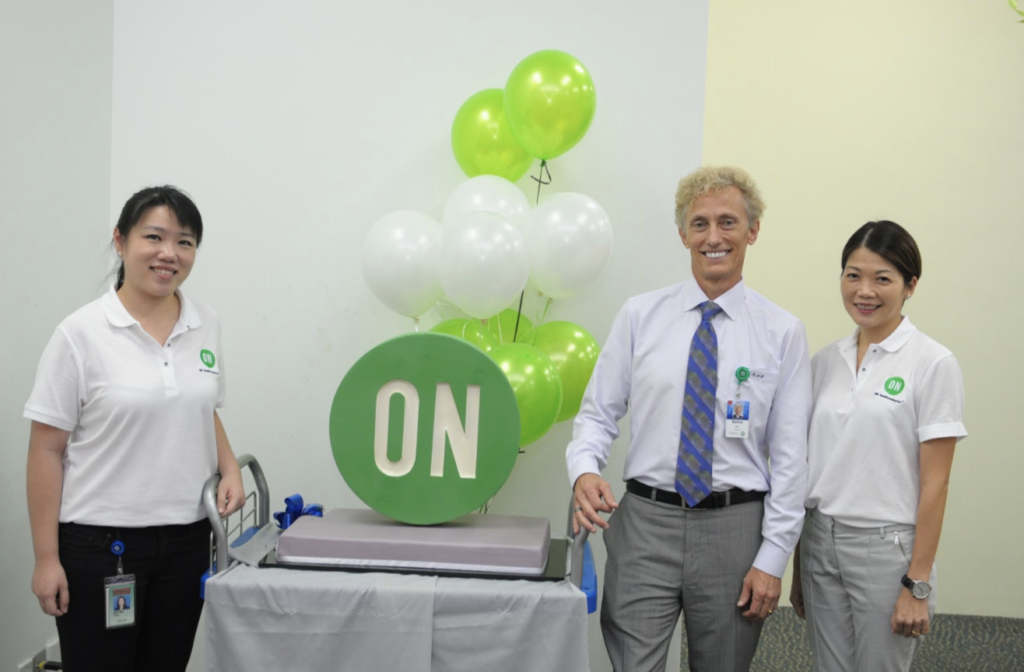 Shin Min with Mr Sonny Cave, EVP, General Counsel, Chief Compliance and Ethics Officer, Chief Risk Officer and Corporate Secretary, Ms Jean Chong, VP, General Counsel, Asia Pacific, Assistant Compliance and Ethics Officer
Discuss some of the legal issues you have faced as an in-house counsel. What was your strategy for solving the problems and what was the outcome?
The legal issues I face vary from the standard employment law issues, to contract review, compliance with new regulation as well as more complex matters like managing the closure of a factory.
How I would go about dealing with these issues is really to make sure that the business involves legal from the very start. It is important for the legal team to be involved in these discussions and assure the rest that they are not an obstruction. Rather, the legal team is there as a partner, with the goal of helping the business find the best solution to their issues.
What types of matters require you to seek outside counsel?
We typically seek outside counsel for matters involving multiple jurisdictions. As our business covers all of Asia-Pacific, there are certain areas of law which would require external counsel's input.
We also seek outside counsel for matters that are particularly complex, where many employees are affected. This could be a situation such as the closure of a factory, where we are required to work with the local authorities and regulators.
What legal issue or area do you think will become more significant in the future?
I certainly think that the Internet of Things, Artificial Intelligence and Data Privacy are hot topics for the future. I feel that the law is not catching up fast enough with these forms of technology and is very reactive in nature.
As in-house lawyers, we have to be very careful about the legal implications of technology. We have to put more thought into how technology will affect businesses and also us as individuals.
Do you foresee changes in the career path for future lawyers? Will most of them stay in private practice?
I believe that there will be more opportunities for future lawyers to move out of private practice. At some point of time, the line between private practice and in-house lawyers is not going to be so clear. This is because the way legal services are being delivered is changing. Clients expect legal advice to be delivered immediately, with a shorter turnaround time. I also see a trend of more law graduates going straight to in-house or even starting in-house a lot earlier than we used to.
What other skills do you think young lawyers need to stay relevant in the future?
I think it is very important for young lawyers to have the hunger to learn. As long as you are willing to learn and put in effort, no job will be too difficult for you. As a hiring manager, that is one of the important traits I will look for. I want someone who is eager to learn and believes that he or she has the capacity to take in more knowledge and to take on more challenges.
Another skill that is important is the ability to empathise. Whether you are in practice  or in-house, you will need to communicate with your client. You need to be able to understand their needs, break down the issues quickly and give them an answer. If it is an answer they may not want to hear, you need to be able to repackage it and provide an alternative solution.
3 fun facts about you?
My drink of choice is a gin and tonic. I have too many bottles of gin at home, too many for my own good.
My second fun fact is that I would have either been a valet driver or a kindergarten school teacher if I had not been a lawyer. I love cars and I love kids.
Lastly, I also volunteer with AWARE's sexual assault and care centre.
What song plays in your mind when you first enter the room?
The song that comes to my mind is Hoppípolla by Sigur Rós.
I always want to create a positive impression when I meet people for the first time. The correlation with Hoppípolla is that this song is quite an upbeat and positive one. Another reason why I chose this song is because nobody understands the lyrics to this song. Sometimes, I feel that when I go for meetings, no one really understands what I am trying to say.
Editor's note: ("Hoppípolla", Icelandic for "Jumping into puddles") is a song by Icelandic band Sigur Rós from their 2005 album Takk)
---
This article does not constitute legal advice or a legal opinion on any matter discussed and, accordingly, it should not be relied upon. It should not be regarded as a comprehensive statement of the law and practice in this area. If you require any advice or information, please speak to practicing lawyer in your jurisdiction. No individual who is a member, partner, shareholder or consultant of, in or to any constituent part of Interstellar Group Pte. Ltd. accepts or assumes responsibility, or has any liability, to any person in respect of this article.
---
Continue Reading: