Reading Time:
5
minutes
Your life in the bits and bytes of photos
Digital photographs are a key part of our everyday lives now. With the proliferation of digital cameras, and more importantly the proliferation of smartphones with digital cameras on them, storing and sharing these pieces of our lives has become essential to us as social creatures. It is estimated that there was 1 trillion photos taken in 2015. This means all the photos taken in 2015 will make up 27% of all the photos stored cumulatively to date. In 2017, nearly 80% of photos taken is expected to be on a mobile device.
What many people do not know is that every single digital photo contains meta data called EXIF data. This ranges from basic information such as the date and time the photo is taken to more minute details such as the location of the photo, camera settings and a host of other data. For example, an interesting use of this EXIF data was when dating site OKCupid asked users to rate attractiveness and correlated this results with EXIF data to show interesting insight. Further, AI continues to improve dramatically in recognizing what's actually in the photos from faces, objects, moods to ever more complex use cases.
Apple iCloud Photo Library vs Google Photos – Privacy Policy Comparison
We don't think about this often, but are we really comfortable that companies that we rely on to store and share our images have such unprecedented access to our lives through this meta-data? Should you worry about what terms and conditions you are accepting when you use popular services like Apple iCloud Photos or Google Photos?
In this article, we compare and contrast two dominant providers of photo storage and sharing. We look not just at the features and benefits of each, but also lay out what you are accepting when you accept the accompanying T&C.
Features at a glance:
Apple iCloud Photo Library
Google Photos
First 5GB free for any iCloud account
50GB - $1.28/month
200GB - $3.98/month
1TB - $12.98/month
2TB - $25.98/month
Free, unlimited storage
-JPEG images up to -16 megapixels
videos up to 1080p

Paid storage for Google Drive which allows you to store all files (not just media files) at original format and sizes.
Storage
-Apple device backups
-Documents
-Photos (including RAW files) at full quality and size
-Videos at full quality and size
Storage
-JPEG images up to 16 megapixels
-Videos up to 1080p

Compatible with iOS and Android
Organization:
-Automatic sortation by time and location. You can sort your photos into albums, or tag it to you Favorites album.
-Latest update comes with new feature of facial recognition – but only locally on Apple devices, with no data sent back to Apple.
Organization:
-Automatically analyses your photos and adds them to categories such as "Cats"
-Facial recognition
Search Function:
-Limited to location and date
Search Function:
-Keyword search – If you want to view all photos containing cats, you can do so simply by typing in 'cats'
Sharing
-Upload directly to Google+, Twitter, Facebook or any social network you have installed as an app on your phone
-iCloud Photo Sharing also lets you create a pubic link to an album that anyone can view from a web browser
-iCloud Photo Sharing via shared folders within the Photos app. You simply create a folder and add the email address of the person(s) you want to share the album with.
-You can access your iCloud Photo Library via the iCloud website with your Apple ID and click the Photos icon to access your complete photo library.
Sharing
-Upload directly to Google+, Twitter, Facebook or any social network you have installed as an app on your phone
-Google photos 'Shared Links' provides a URL that takes people to a Web page filled with the photos you selected, and anyone with an Internet connection can view these.
-Google Photos is also available via web browser at photos.google.com where you can view your photo library, download and upload new images
In essence, both companies do use your information to their benefit, though in different ways. Apple's focus is on selling Apple products, which is its main business. Google, on the other hand, while seeming to be doing everything from internet services to driverless cars, mainly makes money from advertising, by selling the information gathered from usage of its services. 
Privacy
Google's services in general have automated systems which analyze your content (including emails, for Gmail) to provide you personally relevant product features, such as customized search results, tailored advertising, and spam and malware detection. Essentially, your usage allows Google to collect data and information, which is monetized by sale to advertisers. Advertisers are able to make more relevant and targeted ads, which translates to more clicks and more money for Google.
Apple has been consistently marketing its products with a focus on privacy and security. Apple CEO Tim Cooke has stated: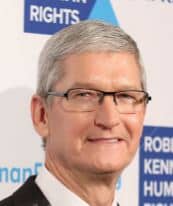 "We believe the customer should be in control of their own information. You might like these so-called free services, but we don't think they're worth having your email, your search history and now even your family photos data mined and sold off for God knows what advertising purpose. And we think some day, customers will see this for what it is." 
Apple mainly uses information from iCloud usage to:
help Apple create, develop, operate, deliver, and improve Apple products, services, content and advertising, and for loss prevention and anti-fraud purposes

fulfil internal purposes such as auditing, data analysis, and research to improve Apple's products, services, and customer communications
Apple's Privacy Policy has also stated that
Personal information will only be shared by Apple to provide or improve Apple products, services and advertising; it will not be shared with third parties for their marketing purposes.

Apple does not "monetize" the information you store in iCloud. Our software and services are designed to make our devices better.
Multiple industry reviewers have given the verdict that the price factor (free) and function of Google Photos makes it a superior service. Google Photos automatically analyses the photos and assigns them metadata – which is exactly what allows its superior organization and search functions. Metadata includes for example, the location and other information your camera builds into the underlying code of your digital image.
Thus, the largest concern has been that Google Photos will use this metadata to build an even better profile of users, and sell it to advertisers to produce more relevant ads. For example, if Google Photos detects that many photos are of beaches, it may advertise beach holidays when you use Google services.
For Google Photos:
information collected from cookies and other technologies, like pixel tags, is used to improve user experience and the overall quality of Google services, via Google Analytics.
Data generated through Google Analytics can be linked, by the Google Analytics customer or by Google, using Google technology, to third­-party cookies, related to visits to other websites, for instance when an advertiser wants to use its Google Analytics data to create more relevant ads, or to further analyze its traffic.



However, Google has stated that Google Photos is not monetized, and their focus is on perfecting user experience:
"Our first priority — as with most products that Google builds — is to get the user experience right. So we have no monetization plans at this time. Google Photos will not use images or videos uploaded onto Google Photos commercially for any promotional purposes, unless we ask for the user's explicit permission."
The possibility is open, however, that Google may monetize Google Photos one day, or share/disclose information gained from it. Google Vice President of Streams, Photos, and Sharing, Bradley Horowitz has said:
"The information gleaned from analyzing these photos does not travel outside of this product — not today. But if I thought we could return immense value to the users based on this data I'm sure we would consider doing that."
On the whole, however, it seems that at the moment both iCloud Photo Library and Google Photos both do not use your uploaded photos for commercial or advertising purposes.
Most users of products and services nowadays simply click 'I agree' to the terms and conditions of use without reading the entire agreement – usually long pages of technical or legal terms. A careful reading however, shows that under their terms of service, both iCloud and Google Photos include a license to use, reproduce or modify your uploaded content. This is despite your retaining of all intellectual property and ownership rights.
Google's Terms of Service:
"When you upload, submit, store, send or receive content to or through our Services, you give Google (and those we work with) a worldwide license to use, host, store, reproduce, modify, create derivative works (such as those resulting from translations, adaptations or other changes we make so that your content works better with our Services), communicate, publish, publicly perform, publicly display and distribute such content."
Apple's iCloud Terms of Service contains a similar clause:
"However, by submitting or posting such Content on areas of the Service that are accessible by the public or other users with whom you consent to share such Content, you grant Apple a worldwide, royalty-free, non-exclusive license to use, distribute, reproduce, modify, adapt, publish, translate, publicly perform and publicly display such Content on the Service solely for the purpose for which such Content was submitted or made available, without any compensation or obligation to you."
Given that both services include such a term, it might not affect very much the decision to choose one or the other. Furthermore, security-wise, both Apple iCloud and Google services use 128-bit AES and SSL encryption.
So which application should I use?
In choosing which app to use – there are some considerations you can take note of:
| If | Then choose | Reason |
| --- | --- | --- |
| You don't just want to store images and videos, but other files too | Apple iCloud | Stores Apple device backups, documents, and all images and videos at original and full size and quality |
| You own not only Apple but Android devices and want to sync across both platforms | Google Photos | Apple iCloud only supports iOS, Mac and PC, while Google Photos supports those as well as Android |
| You just want unlimited storage for images and videos | Google Photos | It offers unlimited storage, but only for images up to 16 megapixels, and videos up to 1080p |
| You consider organization and search function as the most important | Google Photos | It has a more sophisticated organization function |
| You consider price as your most important criterion | Google Photos | It is free |
| You do not want your information shared or sold to third parties | Apple iCloud | Apple only uses this information for its products, and does not disclose it to third parties for their marketing purposes |
Ultimately, the more suitable application depends on your personal preferences and comfort level with the products and services of Apple or Google. There will always be privacy concerns with any platform for online storage, especially with photos or sensitive personal information, so how you plan to use such applications should be an important consideration as well.
---
This article is written by Dion Ng from Asia Law Network.
This article does not constitute legal advice or a legal opinion on any matter discussed and, accordingly, it should not be relied upon. It should not be regarded as a comprehensive statement of the law and practice in this area. If you require any advice or information, please speak to practicing lawyer in your jurisdiction. No individual who is a member, partner, shareholder or consultant of, in or to any constituent part of Interstellar Group Pte. Ltd. accepts or assumes responsibility, or has any liability, to any person in respect of this article.
---