Reading Time:
9
minutes
Art collides with the law
Two of the most talked about artworks in Singapore had appeared overnight to surprise both members of the public and public authorities. In a bold move, the artists of both artworks had bypassed the process of obtaining official permission to display their work in public. Their public artworks have since stirred hot debate among art enthusiasts and non-enthusiasts on how to define 'art' and 'vandalism'.
For those unfamiliar with these artists and their controversial works, read on for a summary of the effect of their work on Singaporeans.
Golden staircase all the buzz this year
Just last month, Priyageetha Dia, a Lasalle fine arts student, had pasted removable gold foil on a flight of steps of a HDB block at Jalan Rajah without the permission of the Jalan Besar Town Council. Three days later, Priyageetha restored the steps to their former state save for a small square piece of gold on one of the steps.
While the Jalan Besar Town Council disapproves of Priyageetha's initiative, they did not take any legal action against her. She might have faced a heavier penalty for her work if she had created her public art four years ago.
Not the first example in Singapore — Samantha Lo (aka Sticker lady) in 2013
Four years before the Golden Staircase, Samantha Lo, a.k.a. 'Sticker Lady', was arrested for spray painting Singlish phrases (such as "My Grandfather Road") on walls and streets, and pasting removable stickers on traffic lights. It stirred controversy. Some lauded it as refreshing, innovative art while others derided her work as flat out vandalism.
After Samantha was released on police bail, she was sentenced to 240 hours of community service and had to make full restitution of the costs of cleaning to the affected parties.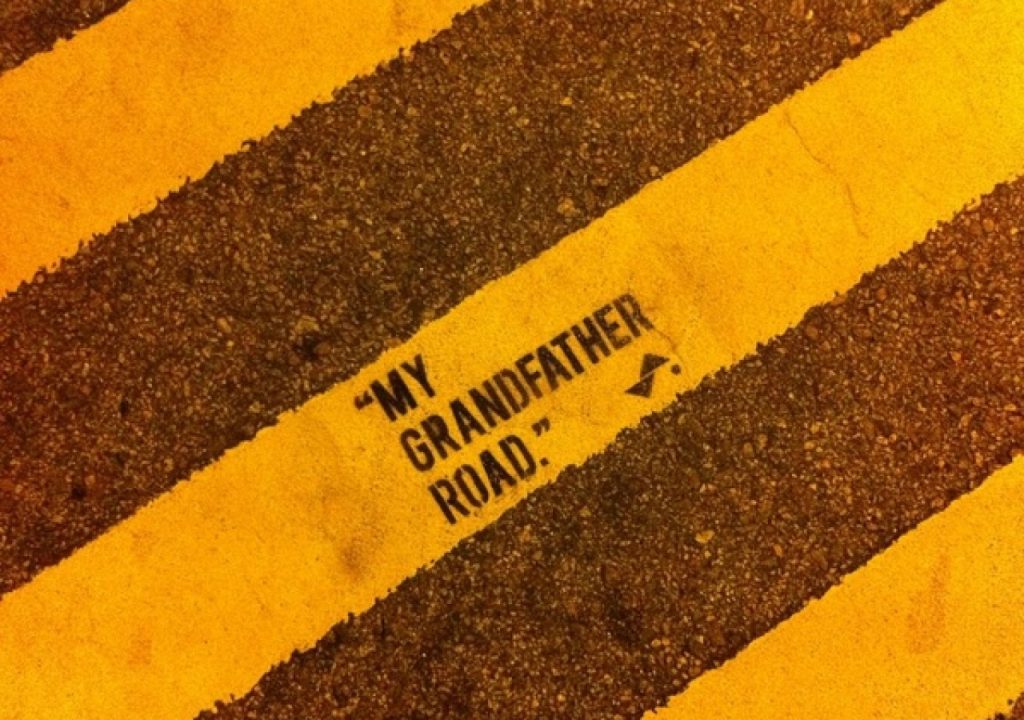 This type of art is not new and has been around for a long time
The controversy arising from Priyageetha and Samantha's works brings to mind the art of Banksy, a British guerrilla artist. No one knows who Banksy is, yet his street art's cult appeal has resulted in his worldwide infamy and his works being valued at a minimum of £300,000. Vice describes Banksy as "the only person allowed to vandalise Britain's walls". Street art has been around for decades.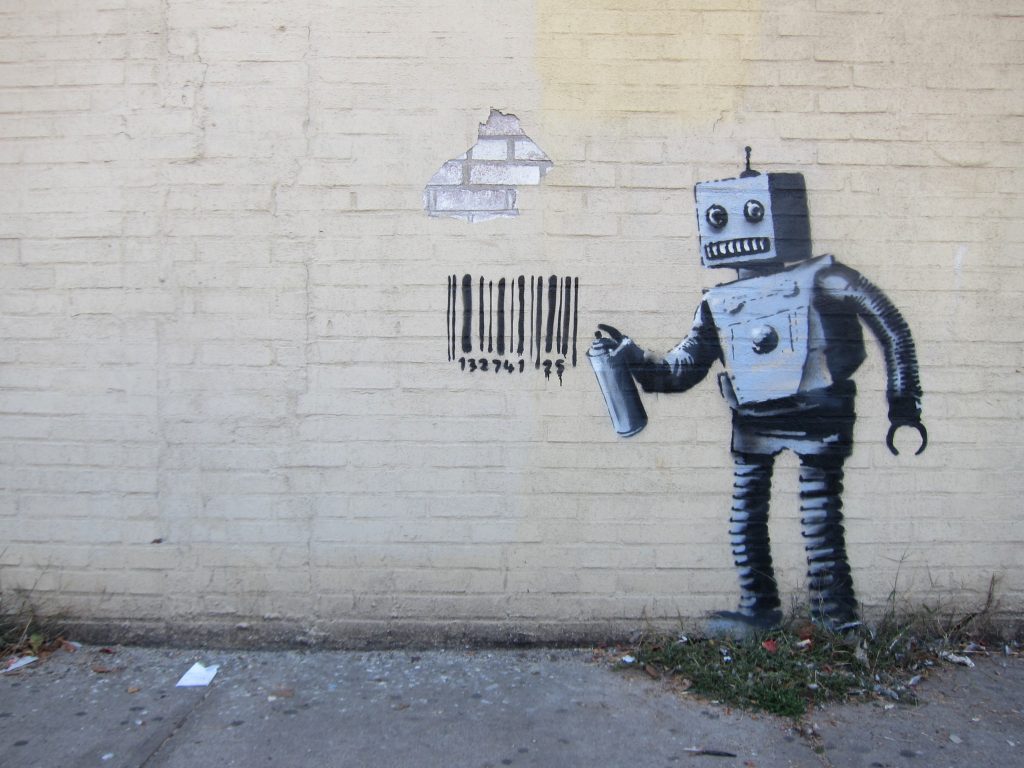 While there are many clear-cut cases of vandalism (read this article from the Straits Times about vandalism cases in Singapore), the cases of Samatha and her stickers and Priyageetha and her golden staircases aren't as clear-cut.
---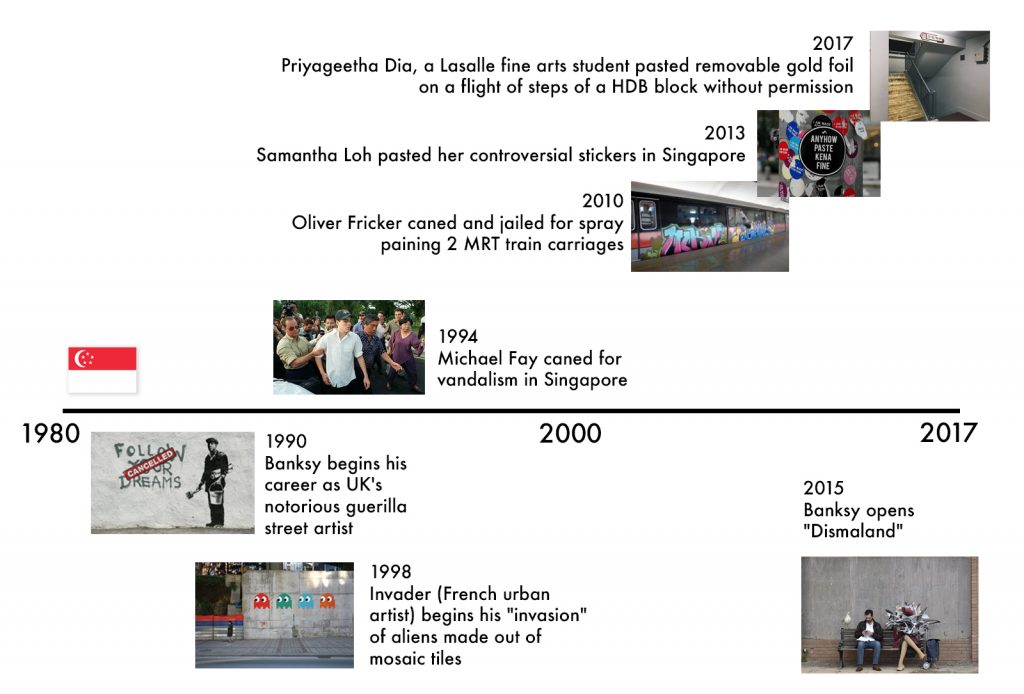 ---
We speak with 2 lawyers and a Studio Vieta investor to get their perspectives and practical advice on art and the law in Singapore
Will artists in Singapore continue to blur the lines between art and vandalism until there appears another Priyageetha or Sticker Lady, or even Singapore's own Banksy?
We talked to Steven Liew, investor of Studio Vieta, Lawyer Ronald JJ Wong (Covenant Chambers LLC) and Lawyer Rebecca Liu (Withers KhattarWong) for their views on art and the law in Singapore.

---
What is Singapore's position on public art, where the lines between art and vandalism may blur? Does it stifle creativity? Is this very different from other parts of the world? Is it changing? 
Steven: If I recall correctly, the Vandalism Act and the Miscellaneous Offences (Public Nuisance) Act are the two laws which cover what is commonly known as vandalism. The most notorious case where the Vandalism Act was enforced was when we convicted American Michael Fay and caned him for vandalising a host of public properties. There are absolutely no artistic merits in what Michael Fay did. He spray-painted, scratched or otherwise destroyed things like street lights, public building walls and even a Supreme Court justice's car. In my view, it was right that Michael Fay was charged. What I disagree with is the punishment he received (but more on that later).
On the other hand, what Sam (full disclosure: we are friends) has done is, in my honest opinion, art.  Same goes for what Priyageetha has done.  But one man's art is another man's vandalism. I think it is unrealistic to expect police, prosecutors and judges to have to decide whether something has artistic merits. I do believe Singapore is no different from a lot of other countries which place some form of restrictions on where and how you can create public arts. Even Banksy was not welcomed by NY City Government. But what I think is stifling Singapore public artists is the potential of imprisonment and caning that follows if you are convicted of a Vandalism Act offence. That scares a lot of people.
When I commissioned the giant mural outside my own home in Joo Chiat, 10 out of 10 passers-by who stopped to talk to Ernest Zacharevic, the artist, asked him whether he has permission from the government to do so. And when he said no, they asked whether he knew he can be caned in Singapore if arrested (well, they are wrong. It's only vandalism under Vandalism Act if he had painted on a public property. This is my private residence.)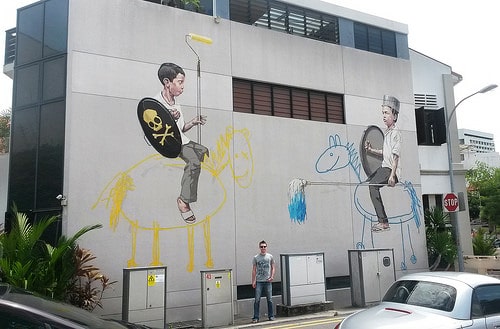 I do know things have changed a lot since 2013. I would like to believe I had something to do with it as I was hauled up by URA for doing the mural without first getting their prior written consent. After much discussions where matters escalated to the higher levels in both URA and NAC, things started to change. It's now easy to apply for permission to do public arts in Singapore. I have recently gone through a process with URA in Tiong Bahru and it was pretty painless.
I do hope someone in government comes forward to clarify that the Vandalism Act really applies to instances where things are done to public properties. And that there are ways for aspiring artists to apply to URA or HDB to do public arts properly and lawfully.
Ronald: Public art is broadly art that is physically situated in public spaces. Vandalism is by definition destruction or damage to property. In the Penal Code, vandalism would come under the offence of mischief (section 425). There is also the Vandalism Act, which carries the potential additional penalty of caning, unlike mischief under the Penal Code.
We are comparing apples and oranges with these two concepts. Legally speaking, the boundary between the two concepts is arguably not ambiguous. The owner of the property has a right to his property being protected. In the case of public art, public property belongs in a sense to all of us but is entrusted to the State's stewardship. The State has a responsibility to protect it for the benefit of all (or at least most of us). For example, we would not like someone to splash paint on our door and write "O$P$" in the name of art. By analogy, we must have some processes to determine who gets to alter our public property. The issue of stifled creativity lies I think in that process. What would the relevant authorities permit or not permit?
Yet I personally believe, having artist friends and having dabbled in some amateur theatre myself, that often art is about pushing boundaries and exploring issues. Sometimes that leads the artist to come head on against certain boundaries–legal or otherwise–precisely as the artistic statement. In that case, the artist should just be prepared to take the risk of bearing the consequences. However, in other cases, I think artists are precisely meant to be challenged by the boundaries placed on them. A blank canvas doesn't produce good art. It is a blank canvas with its concomitant boundaries of antecedent rules and norms of making art that forces good art to be made.
Rebecca: The distinction between art and vandalism is really artificial – "art" is often a subjective term whereas "an act of vandalism" is broadly defined under Singapore law and often attracts penal consequences. 'Art' without appropriate permission or written consent essentially involves an act of vandalism. The Singapore government does embrace public art through several channels, such as the Public Art Trust launched in 2014 and the Public Art Tax Incentive Scheme, but people's interpretation of "public art" is subjective as well. Public art installations may themselves be vandalized.
Why was Priyageetha (golden staircase) more lightly censured compared with Samantha Lo (stickers)?
Steven: Part of it I believe is timing. When Sam did what she did back in 2012, Singapore really wasn't ready for her. Our idea of public arts are giant monuments created with commissions from NAC or some big real estate companies. I think Singapore has come a long way. Another reason could be what Priyageetha has done is also easily removable. So, nothing permanent affixed or applied on public properties (again unlike what Sam has done with her stickers on traffic lights and painting on public roads.) So a lot of policy difference and factual difference.
Ronald: I do not know. It is a matter of the discretion and mercy of the relevant authorities to report the matter to the Police as a criminal matter, and then for the Attorney-General's Chambers to exercise prosecutorial discretion or mercy.
Rebecca: I'm not sure that "censured" is the right term to use. It could be that Priyageetha benefited from the public outcry following Samantha's arrest.
What do artists need to consider from a legal and regulatory perspective if they want to make public art?
Steven: Get permission. It is NOT that hard in Singapore to do so. You can even do it on conserved buildings – check out Haji Lane, Little India or even my home in Joo Chiat.
Ronald: This would really depend on a lot of things, like where the art is situated, content of the art work, medium, whether it would also potentially infringe or use the intellectual property of others.
Approvals, permits and licences would have to be applied for from different authorities in different cases.
Rebecca: Public art installations often require the consent of the property owner on which the art piece is to be situated. Public art performances or exhibitions may also require similar permission and an arts entertainment license. Public art that is commissioned may also involve copyright issues, i.e. as to whom the copyright to the artwork belongs – generally, copyright of a commissioned work belongs to the commissioned party unless otherwise agreed between the artist and commissioning party.
What are the different requirements when it comes to public and private property (that is visible to the public; what if it's indecent or offensive)?
Ronald: There are criminal provisions which artists should bear in mind, including for example:
Trespass s 441, Penal Code (PC)
Public nuisance s 268, PC
Obscene acts s 294, PC
Injuring or defiling a place of worship with intent to insult the religion of any class s 295, PC
Wounding racial or religious feelings s 298, PC.
Promoting enmity between different groups on grounds of religion or race and doing acts prejudicial to maintenance of harmony s 298A, PC.
Excessive noise s 14, Miscellaneous Offences (Public Order and Nuisance) Act (MOA)
Nudity and public decency s 27A, MOA
Rebecca: "Offensive arts" may not even enter the public sphere – see the statement of the National Arts Council chairman circa December 2015. The Undesirable Publications Act also contains a wide definition of what constitutes a publication – includes sound recording, books, magazines, photographs, paper, sculptures etc. and it is an offence to make or reproduce any obscene or objectionable publication with knowledge or with the reasonable cause to believe that publication to be obscene / objectionable.
Practical tips for aspiring artists who are planning to create public art? (e.g. should they get permission, are permits required, should they consult a lawyer, etc.)
Steven: Go on to URA, HDB, BCA and NAC websites to get to know the rules and policies. They are all up online these days. Contact these agencies to sit down with the officers to present your proposed artwork. You will still need to solicit the support of the local communities (town councils, neighbourhood committees, resident committees, merchant associations etc.) but it is NOT impossible. And increasingly, Singaporeans appreciate good public arts in their neighbourhoods as they have seen that good public arts will enhance the value of their real estate. Just look at Haji Lane, Jalan Besar, Little India, etc. where you got loads of great public arts on the walls. My home has definitely enjoyed an artistic premium as my rental is substantially more than what my immediate neighbours are getting for their boring staid looking homes.
Ronald: Do your research and count the benefits and costs, including long term costs.
---
Major takeaways from our conversation
Street artists in Singapore may sometimes feel that their creativity is stifled by potentially harsh penalties of imprisonment and caning for vandalism.
There has been significant progress in Singapore's perception of public and street art in recent years, which may explain the relatively lenient treatment of Priyageetha (Golden Staircase) as compared to Samantha (Sticker Lady).
Tips for artists who plan to create public art in Singapore:

Research the rules and policies of organizations in charge of regulating public art (e.g. URA, HDB, BCA and NAC).
Get permission — arrange for a meeting with officers of the relevant government agencies to present your proposed artwork.
Consider the (long term) benefits and costs of your public art.
Get the support of local communities. These include town councils, neighbourhood committees, resident committees and merchant associations.
---
Facing difficulty with obtaining approval for your public art installation?
If you would like to get legal advice for your art commissions, you can do so by booking a Quick Consult with Lawyer Ronald Wong. When you get an AsiaLawNetwork Quick Consult, Ronald will call back within 2 days for a transparent, flat fee starting at S$49 to give you practical legal guidance and advice.
About Our Contributors
Steven Liew is one of AsiaLawNetwork's advisors and a Studio Vieta investor. Studio Vieta works with city governments, country tourism agencies, real estate owners and anyone who has a need to change the space they control/own with public (i.e. free) arts.
Read more about Ronald Wong or find out more about his firm Covenant Chambers LLC.
Read more about Rebecca Liu or find out more about her firm Withers KhattarWong.
Featured image of Minion Bollards by Joh Loh (Credit)
---
If you want to know more about finding a lawyer
---
This article is written by Joseline Yu from Asia Law Network.
This article does not constitute legal advice or a legal opinion on any matter discussed and, accordingly, it should not be relied upon. It should not be regarded as a comprehensive statement of the law and practice in this area. If you require any advice or information, please speak to practicing lawyer in your jurisdiction. No individual who is a member, partner, shareholder or consultant of, in or to any constituent part of Interstellar Group Pte. Ltd. accepts or assumes responsibility, or has any liability, to any person in respect of this article.
---