Reading Time:
6
minutes
What is an employment contract?
An employment contract is a legally binding document between your employer and you. Also known as a 'Contract of Service', it governs your relationship with your employer, and where applicable, the Employment Act sets out your basic terms and conditions of employment, as well as the rights and responsibilities of employer and employee.
Other relevant laws regulating employment in Singapore include the Work Injury Compensation Act (WICA), Workplace Safety and Health Act (WSHA), the Child Development Co-Savings Act (CDCSA), the Retirement Age Act, the Trade Unions Act, and the Industrial Relations Act among others.
For the purposes of this article, we will be focusing mainly on Singaporeans and Permanent Residents who are covered under the Employment Act.
What is the Employment Act, and who is covered by it?
The Employment Act covers all employees, foreign and local, so long as they are not:
A manager or executive with a basic monthly salary of more than $4,500;

A seafarer;

A domestic worker or

A statutory board employee or civil servant.
Aside from full-time employees, this Act will also cover part-time, contractual, and temporary workers.
If an employee falls within the protection of the Employment Act, then the employer must comply with all the applicable rules set out in the Employment Act, and ensure that the worker is offered terms that are either comparable to, or exceeding the terms in the Employment Act. If any employment term or clause is less favourable than that listed in the Act, then it should be considered null and void.
However, if the employee is not covered by the Employment Act, then their terms and conditions of employment will strictly follow what set out in their contracts.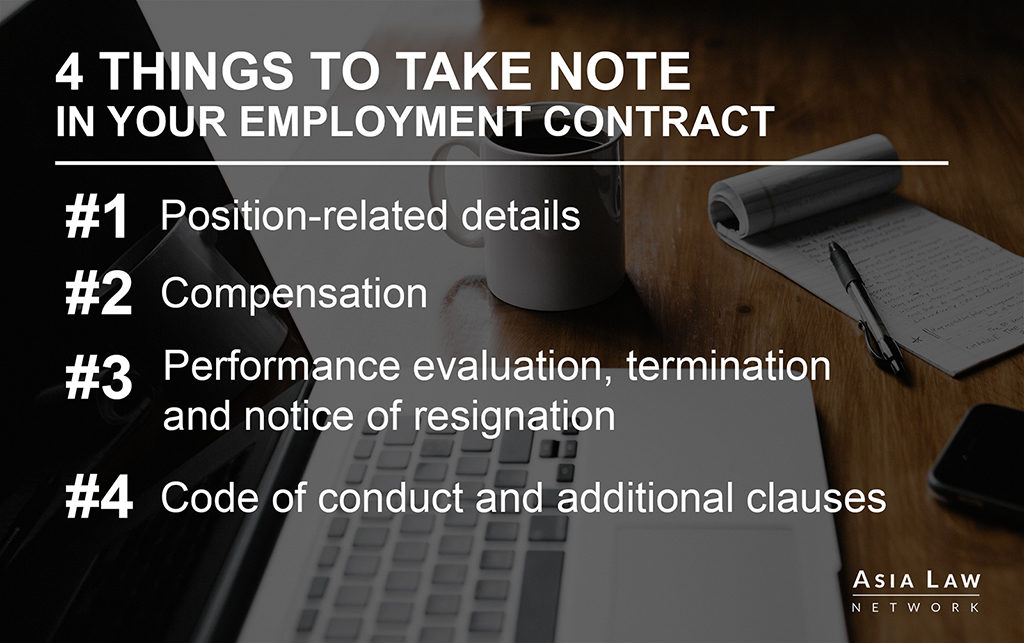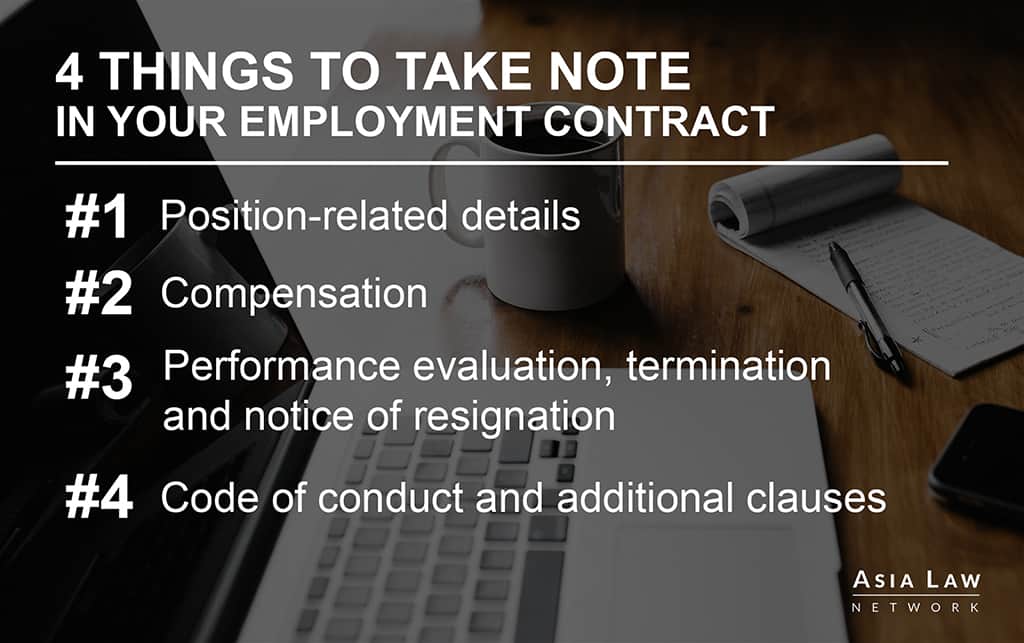 What should I take note of in this employment contract?
First of all, it must be noted that Singapore law allows for a 'freedom-of-contract' model – meaning that employers can decide what terms to insert into the contract, so long as it is not illegal. However, the contract terms cannot be less or 'worse-off' than what is set out in the law.
Secondly, you should ensure that the employment contract covers four main areas:
#1    Position-Related Details
This section should clearly state the job title, position, and specific job duties expected of the employee. Amongst others, it should also include the date of commencement of the employment, how many hours a day the employee should work, and what days of the week is the employee supposed to work on.
#2    Compensation
In general, compensation is a catch-all term that applies to salary, bonuses, payment of Central Provident Fund (CPF) contributions, and other employee benefits. It is a good practice for Human Resources to clearly spell out the terms and conditions that are applicable to the employee in the contract or employee handbook (if it is a company-wide policy).
Some key points within this section that you should pay attention to include: the conditions for when an employee's salary must be paid out; as well as the amount of paid annual leave they are entitled to.
Under Section 20A of the Employment Act, an employee's salary period (or the periods which the salary earned shall be payable) can be fixed by the employer, but it must not exceed one month in length. In other words, you can either pay out an employee's salary on a monthly or even on a weekly basis. In addition, Section 21 of the Act also states that any salary earned must be paid out within 7 days at the latest after the last day of the salary period (i.e. if your monthly salary was due on 30th September, then the company must pay it out by 7th October at the latest).
Employees that are covered by the Employment Act are also expected to be given at least 7 days of paid annual leave for the first 12 months of continuous service (provided that they have worked for the employer for at least 3 months). Subsequently, employees should be given one day's paid annual leave for every year of continuous service – until they reach a maximum cap of 14 days of annual leave.
#3    Performance Evaluation, Termination, & Notice of Resignation
This section is fairly important because it is an area where disgruntled employees are most likely to take issue with.
Some good practices include clearly stating the probation period you expect the employee to undergo, and the job expectations that you expect the employee to meet in order to pass the probation. Otherwise, it is recommended that when it comes to the notice period for resignation, and the conditions under which the employer may terminate the employee's service, both employee and employer should adhere to the regulations set out in Sections 9, 10, 11, and 14 within Part II of the Employment Act.
Based on Section 10 of Singapore's Employment Act, employees need to give prior notice to their employer of their intention to terminate your contract of service. The length for this prior notice should follow any provision laid out in the terms of the contract of service (i.e. the employment contract).
But in the absence of such a provision, then the length of the employee's notice period can range from one day's notice to four weeks' notice, as based on their existing length of service with the company. See the table below for a breakdown of how this is spelled out in Section 10, subsection 3 of Singapore's Employment Act:
| Time spent in service to your company: | Less than 26 weeks | 26 weeks or more, but less than 2 years | 2 years or more, but less than 5 years | 5 years or more |
| --- | --- | --- | --- | --- |
| Length of Notice Period required to serve: | One day's notice | One week's notice | Two weeks' notice | Four weeks' notice |
Do note that the day an employee gives notice would also be included in the computation for the period of the notice. For instance, if the employee served less than 26 weeks in your current company, and then served their notice of resignation on a Monday, then the employee would be considered as having left their job on Tuesday.
#4    Code of Conduct & Additional Clauses
Generally, all companies have some form of a code of conduct clause that they expect of their employees – such as punctuality, no illegal behaviour, conviction of a felony or crime, etc. If you are a start-up, you may also wish to include a confidentiality clause or a non-disclosure agreement – which allows you to file a civil lawsuit if the employee breaks the agreement by leaking or sharing confidential information to unauthorised sources. Other useful clauses include a non-competition agreement (that limits former employees from working for competitors with certain restrictions), or a non-solicitation clause (that prevents a former employee from poaching another employee from the same company).
However, if you include a non-competition clause, be aware that if it is too excessive, the Courts may not necessarily rule in your favour – since it may either determine the clause to be unenforceable or apply the 'doctrine of discretionary severance', and only choose to enforce what it deems to be reasonable and legitimate portions of the clause.
Can I vary the terms of the employment contract after my

employee

has agreed to it?

It is definitely best to have everything right at the first stage. However, if there are changes later on and you wish to alter the employment contract – whether due to a change in the salary, new working hours or different duties, – it is recommended that you obtain your employee's explicit agreement to the new changes first before altering it. It would be good practice to have these amendments in writing and signed by both the employee and employer. Both parties then have a right to either agree/disagree.

The employee should generally read through the contract over and fully understand what is expected of him or her, especially on the finer terms and conditions and specific clauses dealing with specific issues like, intellectual property, processes and client lists, etc. If there is any confusion or likelihood of confusion, the individual should ask questions before putting his or her signature down. It is highly dangerous to sign without knowing what the document is all about. For instance, certain sensitive information that the company does not want to be disclosed is often included in employment contracts and one should definitely be clear on this.
I would like to find out more about my responsibilities as an employer. Where else can I find more information?
The Ministry of Manpower has a section on the Employment Act, and a handy guide to Key Employment Terms that both employees and employers can refer to. SPRING Singapore also has a short write-up on some good practices for Small and Medium Enterprises.
---
Frequently

asked

Questions

Question 1:  Even right until the last day of work, my employee did not comply with the handover procedures, can we withhold the salary?

No, an employer cannot withhold salary for such reason.

Question 2:  What can an employee whose pay had been withheld by the employer do?

I would recommend for the employee to lodge a complaint with the Ministry of Manpower.

Question 3:  I am covered under the Employment Act, however my employers are trying to impose terms and conditions less favourable than those provided in the Employment Act, what happens next?

Rightfully, your employers cannot impose any terms or conditions of employment that are less favourable than the provisions in the Employment Act. As long as one is covered by the Employment Act, all terms and conditions that are less favourable than the provisions in the Employment Act are considered null and void.
---
Have a question about employment contracts?
If you need legal advice on employment contracts, you may get a Quick Consult with Denny or other lawyers for a transparent, flat fee of S$49 and expect a call back within 1-2 days to get your questions answered.
---
This article is written by Denny Boey from Yu & Co LLC and edited by Tang Chee Seng from Asia Law Network.
This article does not constitute legal advice or a legal opinion on any matter discussed and, accordingly, it should not be relied upon. It should not be regarded as a comprehensive statement of the law and practice in this area. If you require any advice or information, please speak to a practicing lawyer in your jurisdiction. No individual who is a member, partner, shareholder or consultant of, in or to any constituent part of Interstellar Group Pte. Ltd. accepts or assumes responsibility, or has any liability, to any person in respect of this article.
---
Continue reading:
---
If you want to know more about finding a lawyer
---