Reading Time:
6
minutes
The police possess vast powers in Singapore – the most impactful which would be the power of arrest. Law abiding citizens would not have an encounter with the police that leads to an arrest or usually contemplate such a situation. However, in an unfortunate circumstance encountering the police on the wrong side of the law, it pays to appreciate the powers the police have. In this article, we discuss the police arrest procedure, your rights under arrest, and what happens after the police arrests you.
When can the Police exercise their powers to arrest you?
The police does not always require a warrant to arrest. The third column of the First Schedule of the Criminal Procedure Code (Cap. 68) sets out when the police may arrest without a warrant and when the police may arrest with a warrant. In general, the police may arrest a person without a warrant if the person is suspected to have committed a serious offence, or if it would be difficult to identify and arrest the person later. A general indication of such offences where the police have the power to arrest without warrant ("arrestable offences") and where a warrant of arrest is required ("non-arrestable offences") is set out in the table below:
Offences that are arrestable in nature

Offences that are non-arrestable in nature

Robbery

Cheating

Criminal Breach of Trust

Theft

Shop-theft

Being a member of an unlawful assembly

Rioting

Causing hurt by dangerous weapons or means

Causing grievous hurt to others

Causing hurt to others

Intentional harassment to another person

Dishonest retention of property or found property

Mischief

Assault or use of criminal force otherwise than on grave and sudden provocation
The nature of the offence is usually first determined at the initiation of the police investigation – when the police report is first made. Depending on the nature of information given to the police, the police will apply for a warrant for arrest, which will be issued by the Magistrates' Court.
The police have the power of arrest if they determine the nature of offence at the crime scene. For example, if the police determines at the scene of the offence that an arrestable offence – such as theft, drug consumption or voluntarily causing grievous hurt, has taken place.
The police may also arrest an individual if the individual refuses to give your personal details when requested or obstruct the police from executing their duties.
Prior to making an arrest, a police officer who is not in uniform, shall inform you that he is a police officer and identify himself by furnishing his warrant card. You may request to verify the officer's identity by checking the arresting officer's warrant card when practicable. A specimen of the warrant is shown below: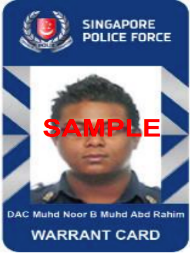 The police is allowed to use reasonable force to make an arrest, and the use of handcuffs may be justified. The police is also required to inform you of the grounds of arrest, when the circumstances permit.  
What happens after an arrest has been made?
The difference between an arrestable and non-arrestable offence affects how the investigation is carried out. For all intents and purposes, this difference does not usually have any impact on the individual subject to the arrest.
For arrestable offences, you may be detained in custody for a maximum of 48 hours for investigation. The duration of this initial remand may be extended by police on application to a Magistrate. For non-arrestable offences (i.e. when arrested pursuant to a warrant of arrest), you will be produced in Court without delay.
Following an arrest, the police has the right to search you and your belongings or any place that the police believe may contain supporting evidence towards the offence that you may be accused of (ie. your property, vehicle, computer, handphone). The police may also seize any item found in your workplace or home as evidence, pursuant to Sections 24 to 40 of the Criminal Procedure Code. The police may also search your person – subject to that a woman may only be searched by a female officer pursuant to section 83 of the Criminal Procedure Code. You may be compelled to surrender all personal belongings, and be detained in custody for a maximum of 48 hours for investigation. However, the duration of this initial remand may be later extended.
The police may interrogate and take statements from you while you are under arrest. The police may also bring you to the crime scene for recovery of evidence, request you to undergo a polygraph examination and participate in an identification parade. Your statements will be recorded during the investigative process and you will be asked to sign on your statement. In every case, you should carefully read the contents of your statement, or have it translated for you if you are unsure. You should endeavour to be as precise as possible and any admission of guilt (including an apology) can be used against you.
While under arrest, you may request for a doctor if you are feeling unwell, and for toilet breaks, and food and water. However, such requests should be made with circumspection, as any requests may be taken into account when you are charged in Court. While you are allowed to make a phone call to your family members or lawyer within a reasonable time from your arrest. However, as it will be explained in the subsequent paragraph, such "reasonable time" is not clearly defined.
The police may release you on police bail while investigations are ongoing after the initial arrest. If the case against you is compelling, the police will produce you before a Court and charge you.  
Although there is a constitutional right under Article 9(3) for you to have access to a lawyer while under police custody, this right has to be balanced against the process of investigation. In almost all instances, a person would not be able to exercise this right immediately after arrest. The amount of time which a person may have access to counsel varies from case to case.
In

Public Prosecutor v Leong Siew Chor

[2006] 3 SLR(R) 290, the Court held that 19 days was reasonable period for the police to refuse the offender to have access to counsel.

In

Jasbir Singh v PP

[1994] 1 SLR(R) 782, the Court held that two weeks was reasonable period for the offender to be refused access to counsel.

In

James Raj s/o Arokiasamy v Public Prosecutor

[2014] 3 SLR 750, the Court of Appeal affirmed that an allowance for police investigations and procedure was to be incorporated in the "reasonable time" for an accused to have access to legal counsel. In other words, there is no right to immediate access to legal counsel.

In

Muhammad bin Kadar v Public Prosecutor

[2011] 3 SLR 1205, the Court held that the police may impose restrictions on the extent to which counsel may advise you during the investigation.
What if the Police decides to press charges against you?
In the event that you are charged, you will be presented with the charges and a cautioned statement. You may ask for an interpreter to interpret the charge for you, if you are not proficient in the English language.
You will be asked to respond to the charge in your cautioned statement. You should state your innocence or admit your guilt at this juncture. You may choose to remain silent or refuse to make a statement if you are unsure. However, this may be used against you in Court as an adverse inference can be drawn from your silence.  
You should read your statements carefully, and ensure that they are precise and mean what you intend them to mean as an accused person's statements are usually one of the most incriminating evidence at trial. If you disagree with the manner your statement was recorded, you should request to amend your statement before signing it. It is important that you record your statement as accurately as possible.
Conclusion
Being placed under arrest can be traumatic, stressful and embarrassing experience. Understanding the process of arrest in Singapore can help manage expectations after arrest, particularly how long you may be detained by the police for investigation, your right to access legal counsel and the effect of the statements recorded by the police during investigation.  
---
Have any legal questions regarding the arrest procedure?
If you require legal advice, you can get a Quick Consult with Wayne Ong or other lawyers. With Quick Consult, from a transparent, flat fee from $49, a lawyer will call you on the phone within 1-2 days to give you legal advice.
---
This article is written by Wayne Ong from Wayne Ong Law Practice  and Antje Wong from the Asian Law Students' Association.
This article does not constitute legal advice or a legal opinion on any matter discussed and, accordingly, it should not be relied upon. It should not be regarded as a comprehensive statement of the law and practice in this area. If you require any advice or information, please speak to practicing lawyer in your jurisdiction. No individual who is a member, partner, shareholder or consultant of, in or to any constituent part of Interstellar Group Pte. Ltd. accepts or assumes responsibility, or has any liability, to any person in respect of this article.
---
Continue reading: